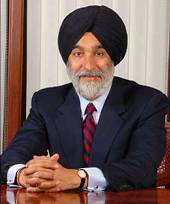 The memories of a bitter family feud over a decade ago have prompted Max India group chairman Analjit Singh to create a succession plan under which all shares owned by the promoters have been shifted to two trusts.

The trust structure has been created to ensure there is no squabbling over ownership of shares in Max group companies.

While the 56-year-old Singh will remain chairman of the trust till he is 72, he, his wife and three children (son and two daughters) will together have three voting rights (the children together have one voting right) and there will be an equal number of independent members in the trust.

The trustees have cleared a proposal that allows the induction of new member(s) in case existing members quit. This is to avoid any future disagreement on the issue among members.

The independent members of the trust include Ashwani Windlass, a former Max India hand who played a key role in the group's telecom business, Tony Singh, Analjit's school friend from Doon who helped him set up Max New York Life, and Ajay Bahl of AZB, a leading corporate law firm.

Speaking to Business Standard, Analjit Singh said, "In India, but for a few exceptions, family businesses have destroyed wealth rather than build it.

"So, you cannot leave anything to chance. I have had an experience in my family when one of the members challenged a will that was registered and even photographed. The rest is history."

Singh says the trust has been structured in such a way that even as chairman he cannot have his way.

"There are covenants by which the other trust members can stop me from taking decisions. No one owns shares individually."

He says just like private equity funds that sign clear agreements with a company on their rights and obligations before investing, the trust has signed agreements cleared by the boards of group companies on their rights as shareholders.

"As chairman of a board, I do not discuss family issues. We hire directors with domain knowledge on various areas of the business.

"And, our board meetings are a two-and-a-half-day affair -- not a two-hour meeting. Only a few of the directors are known to me," he says.

Singh says he has already stepped down as managing director of  Max India and has made up his mind to step down from the chairmanship of group companies. But, he would not like to disclose when.

Singh is the youngest son of Ranbaxy founder Bhai Mohan Singh and had been embroiled in a bitter battle over the control of the empire with his brothers Parvinder and Manjit.

After Bhai Mohan's death, the battle was dragged to courts, with various claims and counter claims on the father's will.

Elaborating on some of the key areas the group is now concentrating on, Singh says these would include hospitality, senior home and integrated medicine.

He says the group will finalise strategy in the hospitality sector in the next one month but ruled out that it will mean an entry into budget or super-luxury hotels.

He says senior home would be a specialised service for people over the age of 60.

Integrated medicine will be another area where ayurveda, homeopathy and various other forms of medicine will be integrated with modern science.

Unlike many of his competitors, Singh makes it clear he does not believe in becoming a pan-India health care company or going for aggressive acquisitions.

"My approach to health care is regional, not national. Currently, we are concentrating on the north and there is so much scope here.

"Later on, we might look at the east and spend the next 10 years there. We are not looking at a hospital in Mumbai and another in Chennai, etc."

Singh says he is not comfortable with acquisitions. "I don't believe in brownfield projects, as it is very difficult to retrofit them to your standards and needs," he adds.

He also admits it is the need for capital in new businesses he is planning that made him decide not to expand his equity stake in Vodafone India.

"We were given the first offer, but we had a requirement of capital in the new projects we are doing. I only suggested they look at Ajay Piramal."

However, he was recently appointed non-executive chairman of the telecom company.
Image: Analjit Singh