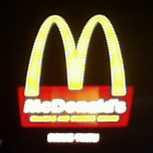 McDonald's is pulling out the stops to woo younger fans. In May it will doubleclick into the cyberworld and install Sony Playstations at eight restaurants in Delhi.
If the experiment is a hit it will install the PS2s at another eight by year end.
A second tie-up -- this time with Nokia -- is a novel experiment being tried for the first time in the world and it banks on fast-evolving mobile phone technology.
McDonald's staff will be trained to take photographs with Nokia cellphones and these will be instantly printed -- in the time it takes to get a burger -- on Kodak Processing Machines. Then, the picture will be presented in a frame to anyone who orders a Happy Meal.
McDonald's is taking no chances. If that isn't enough to bring everyone from toddlers to teenagers in, it is also wooing mothers. It is about to launch a Rs 3.5 crore (Rs billion) promotion that highlights the mother-child bond. The promotion will start today and end on Mother's Day on May 8.
"This campaign is aimed at influencing the mother as the key 'gate-opener' to McDonald's ," says Vikram Bakshi, managing director, McDonald's India.
The initiative will also include setting up play pens and counters where kids can take their own deliveries and new Happy Meal merchandise.
Bakshi is also cooking up other growth plans for this year. He's planning to start home delivery services by year end at around one-third of the company's outlets. Going by the company's experiences in other countries, Bakshi expects sales to jump by around 25 per cent. That should give the company plenty to munch on.
Screen tested
Has Deepak Nayar found a winning formula to make money from the movies? The NRI film industry executive turned businessman is currently backing two hot properties which most movie industry experts predict should bring in the big bucks.
For starters, Nayar's Kintop Pictures is distributing Mel Gibson's The Passion of the Christ in India and he has bought 55 prints, which he wants to get sub-titled in an effort to ensure that the blockbuster reaches even the rural areas. At another level he wants to hold screenings across the sub-continent in Bangladesh, Pakistan, Nepal and Sri Lanka.
At the international level, Nayyar is the producer of the $ 20 million Aishwarya Rai starrer Bride and Prejudice from which great things are expected.
The film directed by Bend it Like Beckham's Gurinder Chadha is scheduled to release simultaneously in India, the United States and the United Kingdom in October. "That's the only way we can deal with piracy," says Nayar, who helped to raise money for Bend it Like Beckham.
Nayar started his career as a film and television industry executive in the US. But now he has turned into a businessman with a finger in many pies. His company Grip, a joint venture with ad film maker and director of Bhopal Express, Mahesh Mathai, provides lighting equipment to film makers in Mumbai and in the US.
If that isn't enough, his distribution company in the US, Cinebels, has just acquired 80 titles from the NFDC catalogue and it plans to release these as DVDs in the international market. In the first year itself the movie maverick hopes to sell around 10,000 copies per title.
Simultaneously, he is also helping Hollywood directors who might want to film in India. One Nayar company Take One specialises in helping directors like Oliver Stone, Jane Campion and Albert Brooks to co-ordinate shoots when they come to India. All in all, a big screen winning formula.
Calling in rupees
Calling home from a foreign country used to be an expensive proposition and in the old days most people simply stayed out of touch when they were travelling.
Nowadays, life's a lot easier. Firstly, the cost of making international calls has fallen through the floor. Secondly, there are cheap phone cards available in most western countries that make calling cheaper than ever before.
Now, Net4India, one of the country's leading IP communications services companies has introduced the Phonewala International Traveller Calling Card. It's a pre-paid card that can be used across 28 countries around the world to make international calls.
So if you are about to visit North America, Europe or South-east Asia, you can buy a card for Rs 100, Rs 250 or Rs 1,000 in India and then use it to make calls from there. You just need to dial the access code for the country from which you are making the call followed by the telephone number you are dialling. As soon as you dial the access code you will be informed of your balance.
Net4India claims calls are almost 80 per cent cheaper when made with their card. For example, a one minute call from London to Delhi, Hyderabad, Mumbai or Chennai will cost Rs 15 with Phonewala and Rs 32 (it's around 40 pence) on a BT card. It will cost Rs 18 per minute to call from London to any other city in India.
The card can be used to dial into any toll-free number from any payphone in the country you are calling from. It can also be used for dialling to any local telephone number in that country.
The Aussie effect
When the government eased foreign exchange restrictions a few months ago and allowed Indians to invest abroad, only a few bravehearts took up the challenge. But the fund managers who were keen to drum up business figured that putting money into Australia would be a reasonably safe bet because it was offering the best interest rates in the developed world.
This week Australia has been hit by a double-whammy. Firstly, the currency and the stock markets tumbled after news that China wants to slow growth. Australia's natural resources companies have profited hugely from China's booming growth.
Secondly, New Zealand has hiked interest rates and is now offering better rates than its Antipodean neighbour. And that's probably where the smart money is now heading.