Industries in Punjab are facing an acute shortage of labourers, most of whom come from other states. In spite of revising the wages of labourers, be it unskilled, semi-skilled or highly skilled, they have found it difficult to solve the problem.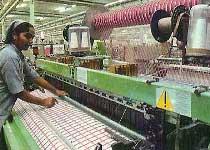 The textile industry, considered to be labour-intensive, is the worst hit. To counter this crisis, many textile manufacturers in Ludhiana have started introducing methods like hiring specialists and outsourcing their work to reduce dependence on labourers.
 
Ludhiana is considered a hub of textile manufacturers.
 
According to Ajit Lakra, managing director of Superfine Knitters Limited, which manufactures and exports knitted fabrics and garments, industrialists are working on changing their operation in such a way that would require less labourers.
 
"Specialists have been roped in for suggesting measures as to how automation could be done in all possible areas so that dependence on labourers could be minimised. Many units have a mechanised transport system to move material from one place to another," he said.
 
Sanjeev
Gupta, managing director of Kuvam International Fashion Ltd, maintained his company had outsourced knitting work to smaller firms to deal with the problem. 
Sandeep Jain, executive director Oswal Woolen Mills, said automation was the need of the hour. "We have been doing automation for the last few years but still we are facing a 10 per cent shortage of labourers. We have also built colonies to help retain manpower required by the industry," he said. 
Ludhiana Knitwear Club President Vinod Thapar said the hosiery industry in Ludhiana was also promoting automation for better results. The members of the knitwear industry have imported 'Stoll' machines from Germany and other countries to reduce their dependency on labourers. 
Stanley Industries, another Ludhiana-based textile major, is looking at employing local women and training them instead of depending on labourers coming from far-flung areas. 
Managing Director S K Jain maintained that beside automation and upgrade, the garment industry was looking for more female workers. "Instead of calling labourers from far-flung areas, we plan to train the local women, who could be easily absorbed by the textile industry."