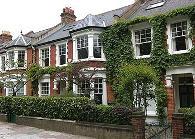 As Britain's housing market continues its downward spiral due to recession, London's biggest builders are targeting cash-rich investors from India and other emerging economies to stay afloat.
A pad in London is avidly sought by upwardly mobile Indian and other foreign entrepreneurs who see the metropolis as a safe and attractive destination. Property dealers in London have reported sales to several foreign investors, including Indians.
A weak pound sterling has added to the attraction of buying houses in Britain. Housing industry sources say foreign buyers bought more than half of the London homes that sold for more than 2 million pounds each last year.
The snapping up of houses in London by cash-rich foreign investors has sparked some concern that prices will remain artificially inflated, which will make it difficult for local British buyers to enter the market.
London is said to be particularly attractive to the global super-rich because of its accessibility, stability, safety and the global standing of its financial institutions.
It is seen as a magnet to the world's billionaires. Berkeley Group, London's largest volume house-builder, said that of the 2,000 homes it sold last year at an average price of 263,000 pounds more than 30 per cent were to buyers in China and India.
This compares with a historic average of 10 per cent. Rob Perrins, chief executive of Berkeley, told The Financial Times: "The demand from sophisticated investors, who want to get money offshore and into a stable investment, or want a place for their children to live in when they come here for university, has no match in the domestic market."
Another builder, Barratt Developments, is reportedly planning to sell a third of the 750 homes it will build in London this year to Asian buyers, compared with about 5 per cent in a normal market.
"A lot of them have cash, or at least easy access to it, which you just don't see with the local buyer anymore," said Gary Patrick, London sales director for Barratt. London is already home to 23 billionaires, 11 of them of foreign origin, including Indian steel baron Lakshmi Mittal and mining magnate Anil Aggarwal.