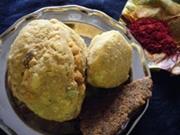 Places famous for their food, drink or clothes -- like Tirupati Ladu, Goa Feni and Banarsi Saree -- from much before the days of copyrights and trademarks won the exclusive right to use these names in 2009.
After a lull of more than two years, the Chennai-based Geographical Indication Registry dusted off old applications and granted GI certificates to 'Tirupati Ladu', a sweet manufactured by the Tirumala-Tirupati Devasthanam-administered Lord Venkateswara Temple, the 'Banarasi Sarees', famous for fine quality and elaborate patterns woven in silk in Banaras city in Uttar Pradesh, and the 'Goan Feni', a fermented drink made from cashew or rice in Goa.
While modern copyright laws as we know originated in Britain as late as 1662, these products that have been given GI rights have been in production since years.
The Banarsi fabrics (hiranya vastra), for instance, have found mention in the vedas as has the city.
Other GI tags granted during the year were for Malihabadi Dusseheri Mango from UP, Puneri Pagadi of Pune, Tangaliya Shawl of Gujarat, Vazhakulam Pineapple and Cannanore Home Furnishings from Kerala, Appemidi Mango and Kamalapur Red Banana from Karnataka and the famous Santipore Saree from West Bengal.
GI tagged products get Intellectual Property Rights protection and others are barred from marketing identical products using the same name.
It also assures that a product originating from a certain region has a quality and reputation.
Besides, GI tags were also awarded to Darjeeling Tea and Madhubani Painting endemic to a region in Bihar.
Popular items that have been granted GI tag world over include Champagne and Tequilla.
Emphasising its importance, UNCTAD India's Deputy Project Coordinator Abhijit Das said, "GI certificate can become an effective tool for economic empowerment of the producer community of such goods.
"This year, Feni-- famous alcoholic drink produced in Goa by cashew apple-- also got GI tag."
Following this, the Goan government now wants to register the Feni trademark in some other countries to make it a global brand.
"We plan to file applications in some other countries, including European Union for the GI status of feni," said Goa government's Department of Science, Technology & Environment Director Michael D'souza.
In 2009, the authorities granted 11 GI tags to goods varying from food to handicrafts.
So far, the Geographical Indication Registry has granted 117 GI Tags, in which 44 GI  Tags were granted during April, 2008 to March, 2009 only.
While, in April 2007 to March 2008, 30 goods were granted GI Tags.