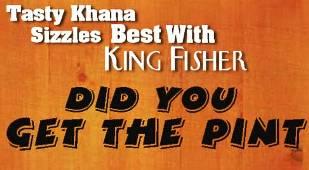 United Breweries is keen to add a dash of colour to its portfolio of beer brands.
That's why the company is silently working on launching flavoured alcoholic beverages under the brand name Kingfisher Buzz, which will take on Bacardi Martini's Breezer, which has been around for eight years now. 
Buzz will go after the same set of customers that Breezer has been targeting -- the youth. Breezer's low alcoholic content -- 4.8 per cent -- also makes it a favourite with women.
That is the proportion of alcohol, which will also be present in Kingfisher Buzz, say company executives. It will come in three flavours -- cola, lime and berry.
But chances are the company will expand the number of flavours in the future, given that the business thrives on the excitement of new and exotic flavours.
Internationally, the flavoured alcoholic beverage or ready-to-drink market is large, with consumption of such drinks in countries such as Australia, New Zealand, Spain etc, being large.
Breezer, which sells in 50 countries abroad, is available in over 10-20 flavours there. In India, however, there are five flavours of the brand including tropical orange, tropical lemon, cranberry, lime and Jamaican passion.
According to the company's marketing head Arvind Krishnan, increasing the number of flavours is on the cards. "We constantly endeavour to offer new and exciting flavours," he says.
UB, therefore, has its task cut out when it forays into the segment later this year. The category, according to analysts, is very small, estimated to be just about Rs 130-150 crore (Rs 1.3-1.5 billion) in size, a fraction of the beer market which is Rs 2,200 crore (Rs 22 billion) in size.
But potential for growth exists, say analysts, given that there are not many players operating in the marketplace at the moment.
Breezer, for instance, retails anywhere between Rs 55 and Rs 60 for a pint, which is a 330-millilitre bottle. Imported brands retail at double the amount -- Rs 120 -- for the same pack size.
So UB, say analysts, has the field wide open in a sense to take on incumbents as well as expand the market at the same time.
Samar Singh Shekawat, senior vice-president, marketing, United Breweries, admits as much, "Expanding both the length and breadth of consumption is something we'd be interested in doing all the time. So beer-related categories are on our mind."
What makes flavoured alcoholic beverages an interesting proposition for UB is the very shift in consumer mindset especially of youngsters over the years. It's no more taboo to consume alcohol, and youngsters are taking to it quite freely.
For beginners, something like a flavoured alcoholic beverage works well, say experts. "It's low on alcoholic content, so the ones starting out feel safe," says an analyst based in Mumbai.
Companies such as UB, therefore, see sense in jumping onto the ready-to-drink bandwagon despite the segment being small at the moment.
"It's a clever move on the part of UB to pre-empt a possible growth area, but let's see how it goes," says an executive with a liquor firm. 
With the per-capita consumption of beer itself being below a litre in India, sceptics abound whether flavoured alcoholic beverages will indeed take off the way existing and potential players anticipate it will in the future.
UB officials, though unwilling to share too many details about Kingfisher Buzz, remain optimistic about the segment and the brand that will operate there.
According to analysts, UB has the wherewithal to quickly roll out Buzz across the country. "But the approach will have to be selective," says Pinaki Ranjan Mishra, partner & national leader, retail and consumer products, Ernst & Young. "Not any and every place should be stocking the product," he says.
"The brand could get lost in the process."
Typically, pubs, discos and places frequented by youngsters would be on UB's horizon for the Buzz brand. Its marketing too would have to appeal to youngsters in specific, say experts.
Rival Breezer, for instance, has gone all out to woo youngsters by playing up colourful product variants in its advertising and communication, tying up with youth-related events to promote the brand.