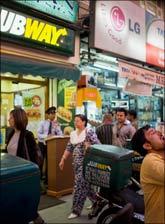 Upscale Khan Market in New Delhi has slipped by 7 notches to the 24th position in the list the 60 most expensive retail high streets in the world this year, says a global survey.
On other hand, Mumbai's Colaba Causeway has seen the world's biggest fall of 63.5 per cent in rents during July 2008-June 2009, says the study by global consultancy firm Cushman & Wakefield (C&W).
Khan Market reported an average rental of $234 (Rs 11,250) per square feet annually. It fell to the 24th position this year from its 17th rank last year.
New York's Fifth Avenue retained its title as the world's most expensive shopping destination with an average annual rental of $1,700 (Rs 81,700) per square feet, followed by Hong Kong's Causeway Bay at $1,525 (Rs 73,300) and Paris' Avenue des Champs Elysees at $1,009 (Rs 48,500), says the study 'Main Street Across the World 2009'.
"The considerably high rentals witnessed in the last few years had made business unviable for many retailers, escalating their cost of operations. Today, however, availability is generally up across the market and retailers are looking to take advantage of attractive rentals," C&W Director (Retail Agency) Jaideep Wahi said.
Globally, the biggest fall in rents was in Mumbai, with Colaba Causeway witnessing a decline of 63.5 per cent, C&W added.