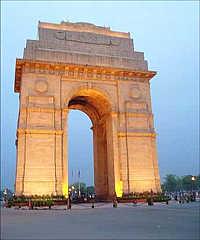 India's economy is likely to grow at the slowest rate in a decade this year despite a spurt of economic reforms, and a busy electoral calendar will make managing a gaping fiscal deficit increasingly difficult to manage over the next few months.
Ratings
(Unchanged unless stated):
S&P: BBB-
MOODY'S: Baa3
FITCH: BBB-
Following is a summary of key political risks in India:
Elections and Economy


India's economy is set for its worst performance in a decade after three consecutive quarters of growth near 5.5 percent. High government spending has led to a fiscal deficit that economist say is likely to hit 5.6 percent this year, exacerbated worse by a fall in revenues.
Prime Minister Manmohan Singh is in a tight spot. He needs to slash spending on popular subsidies and encourage investment through politically tricky reforms to revive growth ahead of a general election due early in 2014.
But with its eyes on the vote, the government is also promising to present a generous budget in the 2013/14 fiscal year.
Ratings agencies Standard & Poor's and Fitch have threatened a downgrade if the fiscal deficit is not tamed.
An important test will be the election in Gujarat, the thriving industrial state run by potential opposition candidate for prime minister Narendra Modi. Modi is popular and likely to win, but a decent performance by Singh's Congress party could encourage the government that its recent reform agenda is electorally palatable. A poor performance could strengthen anti-reform voices in the party. The election results are due to be released in late December.
Finance Minister P. Chidambaram has vowed not to let the deficit pass 5.3 percent of GDP - a tall order given the political pressures and weak demand for some of his revenue-raising projects such as a recent failed sale of 2G cellular spectrum.
What to watch
:
i) The government's performance in a series of state elections, including Gujarat.
ii) Future
sales of government assets and new plans by Chidambaram to meet his budget.
Reforms in Parliament


In September, the government announced a flurry of reforms aimed at attracting more foreign investment and cutting back on budget-busting subsidies. Markets reacted well, but fierce opposition from parties on the left and right has raised concerns about whether the government has enough support to enact its plans.
"The focus has shifted, it's not now on the announcement, it's on the implementation," said Rupa Rege Nitsure, chief economist at the Bank of Baroda.
The government has bowed to intense opposition pressure and agreed to a parliamentary vote on its decision to let foreign supermarkets set up shop in India. A defeat would not be binding but would increase pressure on the government to drop the policy to allow in brands such as Wal-Mart Stores Inc.
Critics say the policy will cost jobs in local shops and hurt farmers. The government says it help modernize India's dysfunctional food distribution system and slash inflation.
The agreement to vote has ended a parliament logjam and could clear the way for the passage of less controversial bills aimed at injecting more cash into the flagging insurance and pension industries.
Markets are likely to respond positively to those bills winning approval in parliament, but in the longer term the government needs to speed up decisionmaking for infrastructure projects, overhauling the tax system and reducing its swollen deficit to revive capital investment.
A plan to create a cabinet level "national investment board" to fast-track stalled road and power projects is itself caught up in political wrangling. Critics say the board would have too much power.
What to watch
:
i) The outcome of the December vote on supermarkets, where a win would be a big boost for the government's reform plans.
ii) The passage of insurance and pension bills in parliament. If they pass the government will have proved it can carry out its plans.
iii) The progress of the national investment board, which the government says is close to being established.