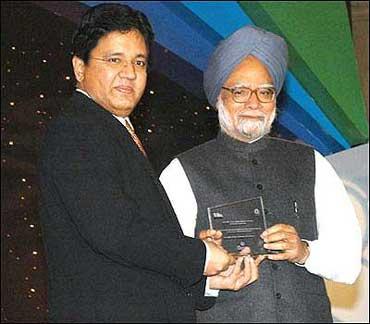 Sun TV chief Kalanithi Maran took over as the chairman of low-cost air carrier SpiceJet today and wasted no time to induct four of his nominees in the company's board of directors.

"Kalanithi Maran has been inducted into the board as the Promoter Director and has been appointed as the chairman of the board and company," SpiceJet said in a filing to the Bombay Stock Exchange.

Following the completion of his acquisition of a majority stake in the company, Maran has inducted four of his nominees -- S Sridharan, J Ravindran, Nicholas Martin Paul and M K Harinarayanan -- as directors on the company board, it said.

Furthermore, Kavery Kalanithi, the wife of the Chennai-based industrialist, has been appointed as a non-independent director on the board, the filing added.

To make space for the new board members, all four existing directors on the airline's board -- B S Kansagra, Kishore Gupta, Mukkaram Jan and Vijay Kumar -- have resigned from the no-frills carrier.

Maran had clinched a deal in June to acquire a 37.7 per cent stake in the airline for about Rs 750 crore (Rs 7.5 billion) from American investor Wilbur Ross, his investment companies and the Kansagara family-promoted Royal Holding Services Ltd.

He, however, currently holds a 38.66 per cent stake in the airline.

"Kalanithi Maran jointly with KAL Airways Pvt Ltd has acquired 38.66 per cent stake in the company. Their acquisition included the entire equity stake of the erstwhile promoter -- Royal Holdings Services Ltd -- and FCCB converted equity stake held by W L Ross entities and shares offered by general public in the open offer made pursuant to Securities and Exchange Board of India (Substantial Acquisition of Shares and Takeover) Regulations, 1997," the SpiceJet filing said.

Before the latest management shuffle, Maran had already appointed Neil Mills as chief executive officer of the airline, while several top officials, including the then-chief executive officer Sanjay Aggarwal and founder director Ajay Singh, put in their papers.

The SpiceJet filing further said that S Natrajhen has been appointed as the chief operating officer of the airline.

Shares of the company closed at Rs 85.70 on the Bombay Stock Exchange today, down 1.10 per cent from the previous close.
Image: Kalanithi Maran (left) receiving an award from Prime Minister Manmohan Singh. | Photograph: Rediff Archives.