Radhika Mane, a middle-class private-sector employee in a western suburb here, has changed her mind and decided to buy a large-size pink gemstone to be imbedded in her newly ordered diamond necklace worth Rs 5 lakh.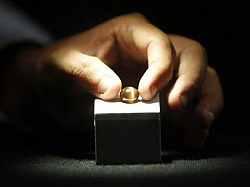 Earlier, she was going to buy a traditional diamond necklace, with matching earrings, nosepin and other ornaments for her wedding; the change in preference has made the ornament look a lot different but also reduced the overall cost by 20 per cent, says Mane.

Glittering and colourful gemstones have become jewellery consumers' preferred choice of late. New orders for wedding jewellery sets and even daily or casual wear have seen consumers opting for coloured gemstones studded in diamond jewellery. Even older customers look for something different to get noticed in a crowd, through colourful gemstones.

"This is a new trend emerging, with customers looking at all types of coloured gemstones in their ornaments, matching with the dress. Hence, the emphasis now being laid out is to attract customers through attractive jewellery items studded with various coloured gemstones," said Bina Goenka, a renowned jewellery designer.

Changing consumer preferences, with demand skewed towards colour, have increased the demand for gemstones. Apparently, these colours are connected with the Gods of various castes and creeds. Hence, a demand for every type of gemstone emerges on various festivals.

Also, many wedding aspirants like Mane have opted for at least one large piece of coloured gemstone studded in the centre of every ornament to give a different look.

As gemstones are available at hardly 10
per cent of the cost of a diamond, consumers are attracted for this reason, too. Diamond prices have steadily become unaffordable, with the lack of new mines and rapid depletion in existing ones. A number of global open cast mines have turned deep underground ones, with limited reserves.
Gemstone demand has seen a compounded annual growth rate of 20-25 per cent in the past three years. The overall market in India is currently Rs 2,200 crore (Rs 22 billion).
Rajiv Jain, chairman of the Gems & Jewellery Export Promotion Council, said, "The visible change can be seen in occasion collections, in which consumers want a bigger looking colourful stone, without investing much."
Attracted by the consistent rise in demand, global gemstones company Gemfields has turned a focus on the Indian market. It sold half its gemstones in the US until 2008, when it had to divert focus on developing markets such as India and China, due to the economic scenario in developed markets.
At present, hardly a fifth of the company's sales are in the US; the larger part is in Asian markets. It conducts four annual auctions -- two each in Jaipur and in Singapore.
For large stones, the company conducts auctions in Singapore. Most of the auctioned gemstones in Singapore ultimately come to India for cutting and polishing. For smaller gemstones, Gemfields organises two auctions in Jaipur every year.
According to Rupak Sen, its regional marketing director–Asia, overall sales were $20 million and $40 million in 2010 and 2011, respectively; this year, it expects the total value to go up to $81 million. Gemfields is also looking to participate in the mining and distribution of Kashmir sapphires.