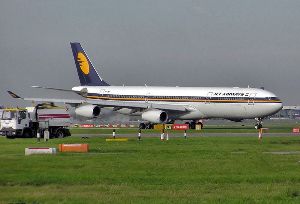 Jet Airways has announced daily flights between Riyadh and Mumbai starting from October 25.
The airline would leave Mumbai at 7.30 pm and arrive in Riyadh at 9.15 pm. The same plane would then leave Riyadh at 10.15 pm and arrive in Mumbai at 4.20 am.
This is the airline's second major expansion on the Saudi-India sector.
Jet Airways is operating daily flights to Jeddah from Mumbai, besides eight other destinations in the Gulf. The airline has daily flights to Kuwait, Bahrain, Muscat, Doha,
Jeddah, Sharjah, Dubai and Abu Dhabi from several Indian cities.
Afzal Azam Baig, general manager for Jet Airways (Saudi Arabia), said the airline is confident that the daily service will prove to be a popular choice.
The service would be offered on board a Boeing 737-800.