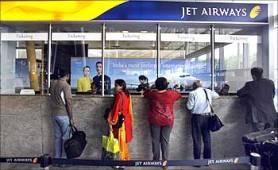 Jet Airways (India) has moved higher by 4% at Rs 490, bouncing back 19% from intra-day's low level, on back of heavy volumes.

The stock opened at Rs 430 and hit a low of Rs 411 on NSE, after the country's Foreign Investment Promotion Board deferred a decision on Etihad Airways' planned 24%
buy in the airline.
The regulator asked for more details on "effective control" and ownership of the Indian carrier post the stake sale.
A combined 7.82 million shares representing 36% of free float equity of the private airliner have changed hands on BSE and NSE till 1500 hours.