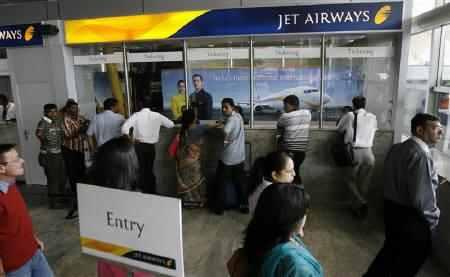 Jet Airways (India) Ltd hopes to minimise the impact of a sharp rupee depreciation by growing its international network over the next few months.
In the short term, however, the airline will have to bear a double whammy - rising costs and the inability to pass there on to travellers due to a tepid demand in the domestic market.
Lease rentals and maintenance costs of aircraft, salaries to expatriate pilots, global distribution system (reservation) expenses, parking and landing costs at international airports are all paid in dollars.
Also, since crude oil import is paid for in dollars, any fluctuation in the currency impacts aviation turbine fuel prices and hurts airlines.
Jet has a natural hedge against the dollar price movement as it earns over 30 per cent of its revenue in dollars, but it does not sufficiently cover its foreign currency expenses.
"About a third of our revenue comes in dollars and over 40 per cent of the expenses are in that currency. Over the last two months, the rupee has fallen over 20 per cent. So, we are going to see an impact in our costs. We have a natural hedge, but our revenue does not fully cover our dollar expenses," said a Jet Airways executive. The airline did not respond to an email query on the issue.
"There will be short term pain due to rupee depreciation. There is no silver bullet for the problem," he added. Increasing international network following its alliance with Abu Dhabi's Etihad Airways will lead to an increase in dollar revenue and help narrow down the exposed limit to under 10 per cent.
The airline's June quarter results were impacted by $21 million (about Rs 138 crore) due to rupee devaluation. The average dollar price during the quarter was around Rs 59 and this resulted in a 31 per cent rise in lease rentals and a six per cent rise in interest on dollar-loans. With dollar touching the 68-mark, the impact will be higher.
Jet owns 30 of 95 planes in the fleet and the balance are on lease. The airline posted a consolidated loss of Rs 348 crore (Rs 3.48 billion) in the June quarter.
Jet has a dollar debt of $ 1.4 billion and a majority of it is aircraft acquisition-related, carrying an interest rate of three percent. A 20 percent rise in dollar means the interest payable goes up to 3.6 per cent.
Last year, the airline had stopped uplift of on-flight meals from certain international airports and decided not to hire foreign pilots to save costs. The airline had begun doubling the meal uplift from India on certain routes to the Gulf and Southeast Asia and it continues the exercise in some measure today. This measure, it was hoped, would save $20 million in costs annually.
However, the airline had to lift its ban on hiring expatriate pilots to fill the requirement on its Boeing 777 fleet. The airline has wet leased three Boeing 777s to Turkish Airlines. In a wet lease, the leasing company or airline provides pilots and crew to the lessee.
Below cost pricing and rapid rise in expenses will result in domestic airlines posting a loss of $400-450 million for the second quarter of the current financial year, according to aviation consultancy, Centre for Asia Pacific Aviation (Capa).
"The cost environment remains hostile with high fuel prices compounded by a weak rupee. There exists an overall systemic weakness with low fares and high costs, and with the industry risks at a peak there do not appear to be any clear initiatives underway, either by the industry or government, to correct the deteriorating financial situation," Capa said in its report.