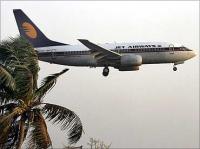 A silver cloud lit up in the otherwise gloomy skies of rising fuel prices and falling profitability for India's Jet Airways, with the announcement of a high-speed train connection between the airline's European hub in Brussels and the French capital of Paris.
From October 30, passengers on any of Jet's six daily flights from India's New Delhi, Mumbai and Chennai and New York and Toronto in North America to Brussels will be able to have their fill of baguettes and berets in less than two hours travel time.
Currently, the only flights between India and France are on Air France that links Paris to Delhi, Mumbai and Bangalore, and Air India which flies out from Delhi alone.
The seamless nature of the new flight-train connection sets up Jet Airways as a direct competitor to these two airlines.
"We are very excited," beamed Emmanuel Menu, Jet's vice-president for Europe.
"For the first time, passengers from Chennai, for example, will be able to fly directly to Paris."
Passengers can book the combined plane-train journey as a single ticket, either on the Internet or via a travel agent.
A traveller from New Delhi to Paris, for instance, will be issued with a boarding pass for both the plane trip to Brussels and the onward train connection at the check-in at Delhi airport.
Flights will be priced lower than those currently offered by Air India and Air France, with an initial promotional price of about Rs 30,000.
The new train connection is the result of a partnership between Jet Airways, its code share partner
in Europe, Brussels Airlines and the Thalys train company.
Thalys CEO Franck Gervais said while it was common for airlines to cooperate via code-sharing, rail-air intermodality remained complicated.
The train operator's alliance with Jet and Brussels Airlines was, thus, somewhat of a trailblazer, Gervais told a press conference in Brussels.
The Paris area has some 11 million people in its catchment who will now have easy access to Jet's destinations in India and North America, as well as Brussels Airlines' 21 links to Africa.
The trains will leave Paris' North Station at 6.25am every day, arriving in Brussels Airport at 8.12am.
They will then depart the Airport at 9.46am to arrive in Paris at 11.35am.
The timings have been synchronised with the hour-long window during which Jet Airways' flights land in Brussels.
"Before the launch of this train, we used to connect passengers wanting to fly to France via one of Brussels Airlines' twice-daily flights to Paris," said Jet's Menu.
"But the demand was so high; we didn't have enough seats to sell."
The new train will add 300 seats daily to the Brussels-Paris route and will have the advantage of taking passengers directly to downtown Paris, avoiding the almost hour-long journey from Charles de Gaulle Airport to the city centre.
Thalys' Gervais added that plans were afoot to set up new high-speed rail connections within the next couple of years that could see Brussels Airport linked to Amsterdam and Dusseldorf in Germany as well.
For Jet Airways, rail connectivity looks set to play a major role in its European strategy.