Jet Airways has joined the Arab Air Carriers Organisation (AACO) as the first Partner Airline of this regional airline association.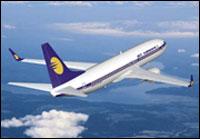 The partnership which was simultaneously announced in Beirut and Mumbai will provide the Jet Airways and the Arab airline members of AACO, with opportunities to create synergies through the various joint projects under AACO, in areas such as fuel management, ground services, safety initiatives and training.

Jet Airways chief executive officer Nikos Kardassis said, "With our growing presence in the Middle East, an opportunity to partner with Arab Air Carriers Organisation (AACO) is an important one.

"This association is strategic to our continued success in this region. We are indeed looking forward to working with AACO on their various joint projects and initiatives."

Jet Airways currently operates a fleet of 97 aircraft, which includes 10 Boeing 777-300 ER aircraft, 12 Airbus A330-200 aircraft, 55 next generation Boeing 737-700/800/900 aircraft and 20 modern ATR 72-500
turboprop aircraft. With an average fleet age of 5.15 years, the airline has one of the youngest aircraft fleets in the world.
Abdul Wahab Teffaha, the secretary general of the AACO, said: "AACO was able to develop during the past years a strong presence amongst associations through the establishment of joint projects, which help member airlines to achieve better economies of scale and scope.
"Jet Airways is a formidable airline with very high quality of service and expanding global network based in one of the most vibrant and promising markets of the world. The synergies of the cooperation between Arab airlines and Jet Airways will open new horizons for the parties concerned."
"AACO is proud that Jet Airways has chosen to be the 1st of its Partner Airlines," he added.