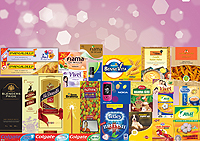 ITC Ltd is planning to foray into dairy and beverage in its quest to become the country's largest fast moving consumer goods company.

It is also looking to take its various food and personal product brands global in the next five years.

"Yes, we will get into dairy products. We are experimenting with a programme in Munger in Bihar, under which we are helping cattle-owners improve yield from one litre to 10 litres.

"With so much milk, the next step will be to get into value-added products. We will collect the milk, process it and then market it," said chairman Y C Deveshwar, who recently got a five-year extension effective February 2012.

The company is looking to triple its FMCG turnover from Rs 5,000 crore (Rs 50 billion) to Rs 15,000 crore (Rs 150 billion) in five years.

This does not include cigarettes.

Deveshwar said once the dairy experiment in Bihar was successful, ITC would extend the model across the country and enter the entire value chain from milk to processed foods.

He said ITC would also enter beverages. "We will get into beverages and tea, coffee and aerated drinks will be our focus."

However,
Deveshwar said cold beverages, including water, where bottling was required, would be the last priority, as they required huge investments in cold chains.
He said such a huge investment was justified only if there was a bouquet of products to be sold.
Cold chains were not required in dairy as a company could sell skimmed milk powder, milk in tetra packs and ghee, among other things, he said.
Deveshwar ruled out taking the acquisition route to build the FMCG portfolio.
"Through acquisitions, one can grow quickly, but has to spend the rest of the time trying to rationalise the brands, which means phasing out some and bringing in others.
"Greenfield projects are harder but more rewarding in the long run as the brands are well-crafted."
Deveshwar says ITC's FMCG business, with an annual turnover of Rs 5,000 crore (Rs 50 billion), is behind the country's largest FMCG company by Rs 15,000 crore (Rs 150 billion).
While it is still making losses, it has provided a lot of value to the company.
"While the biggest drag in FMCG is personal care products, if companies want to buy this business today, it is valued at Rs 10,000. So, we have created amazing value," he said.