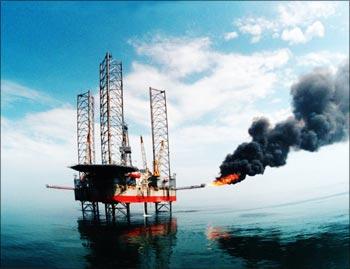 State-owned Indian Oil Corp and Oil India Ltd on Tuesday confirmed making an 'approach' to take over the Middle-East focussed oil firm Gulfsands Petroleum Plc for an undisclosed cash amount.
"OIL and IOC confirm that they have jointly made an approach regarding a possible all cash offer for Gulfsands," the two firms said in a joint statement to the London Stock Exchange.
Sources said the OIL-IOC combine had not make a formal bid but had approached a major shareholder in Gulfsands offering around 315 pence per share to buy its 22 per cent stake.
"There can be no certainty that an offer will be forthcoming," the companies said in the statement.
The statement comes within days of the United Kingdom-based firm rejecting their around 400-million-pound takeover offer.
Gulfsands had last week stated that it rejected an unsolicited offer by an company it did not identify, for being too low.
"The board is unanimously of the view that the proposal is wholly inadequate and materially undervalues the company," Gulfsands had stated in a statement.
Sources said OIL and IOC have not closed chapter on Gulfsands and is considering revising the offer upwards.
Gulfsands had, however, stated that it was not currently involved in any process to solicit offers and is confident of its strategy to become a prominent exploration and production company in the Middle East and to continue to demonstrate tangible growth.
The Indian firms have been in preparation for the acquisition for six months and are being advised by Seymour Pierce. They had approached institutional shareholder Schroders, which holds 22 per cent stake in Gulfsands.
Gulfstone, which has oil properties in Syria and the Gulf of Mexico, produces 14,000-17,000 barrels of oil per day. IOC and OIL have teamed up for acquiring overseas assets and share cost and investment in 50:50 ratio.
Gulfsands owns a 50 per cent stake in a block in Syria that produces about 11,000 barrels of crude oil per day. It also owns interests in 44 blocks, including 30 producing blocks, off the coast of Texas and Louisiana.
IOC and OIL, who had overseas ambitions, were in December 2005 allowed by the government to jointly bid for oil and gas properties. The two have been pursuing acreages in Africa, the Middle East, South-East Asia, South America, CIS countries and Russia.
The two firms currently have a portfolio of exploration blocks in Gabon (one onshore exploration block), Iran (one offshore discovered oil and gas block), Libya (three onshore exploration blocks), Nigeria (one onshore exploration area) and Yemen (two exploration blocks).
If successful, Gulfsands would be their first overseas acquisition. This would be just the second London-listed company acquired by an Indian state-run firm, the first being Imperial Energy Plc by ONGC.