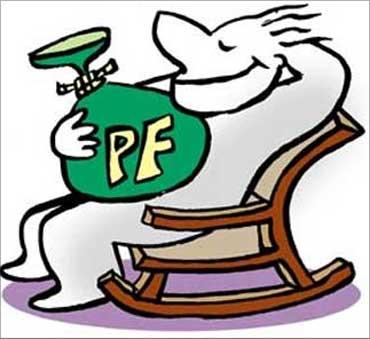 The labour ministry has notified the more flexible investment pattern of 2008 for the Employees Provident Fund Organisation (EPFO), but minus its provision for investment in equity.
The notification comes after a six-year tussle between the labour and finance ministries on whether EPFO should invest funds in equity.
The pattern notified by the labour ministry entails no investment in equity, as desired by the EPFO, the labour ministry and the Central Board of Trustees (CBT) of EPFO.
According to labour ministry sources, the EPFO now has to prepare the guidelines for fund managers regarding the pattern and it would be implemented only after that.
According to the pattern, which will boost investment in private bonds, the EPFO can invest 55 per cent of its funds in government securities, 40 per cent in public sector or in private sector bonds, and the remaining five per cent in the money market. So far, only 10 per cent could be invested in private bonds.
However, the pattern notified by the ministry says the restriction of 10 per cent for private sector bonds will continue until the approval of CBT is available for increasing that limit.
According to EPFO sources, this can be relaxed once the guidelines are prepared and approved by the CBT.
At present, EPFO follows the investment pattern approved by the finance ministry in 2003.
While the ministry updated it in 2008, the EPFO remained stuck with the old pattern because of its opposition to the provision in the new pattern that 15 per cent of funds be invested in equity.
The finance ministry has been insisting for a long time that the EPFO agree to investment in equity under the investment pattern of 2008. Its argument was that changing the pattern was of no use unless the equity component was accepted.
However, the labour ministry and the CBT have insisted that retirement funds of the public could not be exposed to market fluctuations. They had even demanded guaranteed returns if investments In equity were to be made.
According to the 2003 pattern, EPFO has been putting 40 per cent in G-Sec, 30 per cent in public sector bonds, 10 per cent in private sector bonds, and 20 per cent in securities or public sector bonds.
The CBT had recently approved guidelines for selection of private bonds for investment, but because the 2008 investment pattern was not notified, the guidelines were of little help in expanding the portfolio of private bonds.