Industry recognises the need for higher taxes and has no objections if excise and service taxes are brought up to the levels of the pre-2008-09 crisis, says Naina Lal Kidwai, the first woman president of the Federation of Indian Chambers of Commerce and Industry (Ficci) and country head of HSBC India.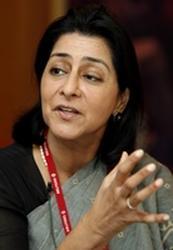 In an interview with Shaikh Zoaib Saleem, she discusses industry's expectations on the next Budget and the government's tax regime. Edited excerpts:

There has been a debate on lobbying and its merits and demerits recently. What do you think lobbying is? Is Ficci a lobby group?

Anything that enables a better-informed discussion in a democratic process is good. An association like Ficci informs policy makers through research papers, which are in the public domain.

It's an industry cause that gets lobbied. It provides a very important purpose as only one view will give you a very autocratic policy.

So, the world of business is full of what you may call lobby groups, which are not lobby groups but associations that lobby the causes specific to those sectors.

And, as we understand from the US, lobbies can be very company-specific.
Whereas, associations are not that specific, they represent the industry issues.
What do you expect from the Union Budget in 2013?


On a broader framework, we are looking to work on the GST (goods and services tax) in 2013. While it's not expected to come up in the Budget, steps to be taken towards that are really important.
What are your expectations on service and excise taxes?


In last year's Budget discussion, not one voice was raised against the increase of service tax and excise duty. Industry itself recognises the need for the tax to go up. But when we talk of the tax regime, clarity and consistency are more important.
On land acquisition, the prime minister has said the issues raised by industry are "misgivings"...


Time will tell. There are several issues involved when we go to acquire land. Though the government has said it will make land banks available for industry, challenges remain. Some companies want to expand where they already exist.
Is industry gearing up to deal with the fiscal cliff in the US?


We have our fingers crossed. If it happens, it will surely impact the world. But there is firm belief in the Indian industry that the US will muddle through.