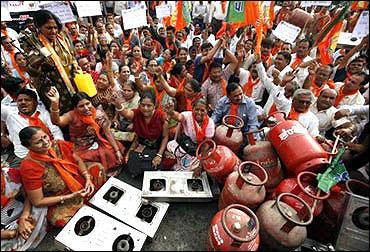 Although the future of Direct Benefits Transfer (DBT) on liquefied petroleum gas (LPG) is uncertain for now, the upcoming vote-on-account is likely to account for about Rs 1,300 crore (Rs 13 billion) that was transferred to the bank accounts of customers in the form of subsidy.
The government had in January announced suspension of DBT for LPG (DBTL) for LPG until a separate committee reviews its implementation. Consumers in 289 districts covering 18 states were receiving subsidies directly in their bank accounts upon purchasing cooking gas at market rates.
"IOC, HPCL and BPCL have lodged claims for reimbursement of Rs 3,300 crore (Rs 33 billion) for the industry. Out of that, the Rs 1,300 crore is expected to be met by the finance ministry in the interim Budget," said a senior Indian Oil Corporation official.
According to petroleum ministry officials, DBTL has helped them detect 284,000 cases of multiple gas connections since its launch in June 2013, covering 95 million consumers in 291 districts.
The Cabinet Committee on Economic Affairs had decided to put the scheme on hold following complaints that consumers were facing difficulties on payment.

The suspension of DBTL is expected to be a jolt for DBT as a whole because LPG accounted for 82 per cent of the total amount transferred under the scheme. If LPG is taken out, total transfers under the scheme would stand at Rs 550 crore (Rs 5.5 billion).