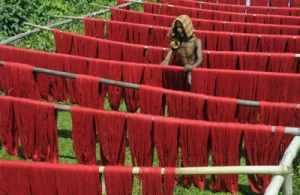 In 2011, the B K Goenka-led Welspun group set itself a target to become a $-5 billion company from a $ 3-billion company then by 2014 backed by the promise of investments by American private equity firm Apollo Global Management.

The Rs 1,575 crore (Rs 15.75 billion) that Apollo invested in two companies Welspun Corp and Maxsteel was to be used to integrate its pipes business (Welspun Corp) with the raw material business, iron ore and steel slabs (Maxsteel), and to enter the infrastructure sector.

Two years on not much progress has been made on either front.

The group seems to have all but given up on its infrastructure plans, additional investment of Rs 675 crore (Rs 6.75 billion) that Apollo was to make in Welspun Infratech, the group's infrastructure arm, was junked last year and the integration of its steel business with pipes has also stopped midway.

Welspun now wants to shift focus back on the core business of steel and pipes rather than the big-ticket infrastructure sector.

"We have made a conscious decision to continue to focus on our core pipes & plates business and reduce the capital allocation to other businesses.

"Our focus is profitable growth which has more meaning to all the stakeholders," the company says in an emailed reply.

The pipes & plates business has annual revenue of $1.7 billion (based on 9M FY13 performance).

The other businesses contribute about $0.3 billion.

Welspun's infrastructure arm, which is made up of three companies, Welspun Infratech, Welspun Projects and Welspun Leighton Contractors, is going through a tough time.

The group's plans for Welspun Infratech have not worked.

Welspun Infratech was to bid for water pipeline projects in India after the integration of steel and the pipes business.

As the integration failed to materialise, so did the plans.

"Due to gas supply issues in the domestic market we are not going ahead with the steel plant expansion," the company says in the email.

The impact of this on Welspun's infrastructure business has been severe.

Apart from the Rs 675 crore (Rs 6.75 billion) investment talks with Apollo hitting a dead-end, top officials have already started deserting the boat.

Parvez Umrigar, the CEO of Welspun Projects whom Goenka had roped in from Gammon Infra, has returned to Gammon and the outlook on the sector has turned cautious.

"We have taken a decision of not investing more funds in the Infrastructure business. This situation is true for all major players in the sector," the company says.

Meanwhile, the company is cleaning up its infrastructure orders, transferring some projects and wrapping up others. Earlier this month, it transferred orders worth Rs 550 crore (Rs 5.5 billion), or 72 per cent of the total orderbook of Welspun Projects, for only Rs 115 crore (Rs 1.15 billion) to Leighton Welspun Contractors in exchange for shares worth 7.5 per cent stake in Leighton Welspun Contractors.

After the share transfer, the company will own 40 per cent of the joint venture.

Welspun group had bought 35 per cent stake in Leighton Contractors India, the Indian arm of the Australian construction giant for Rs 470 crore (Rs 4.7 billion) in 2010.

While Welspun is focused more on executing cash contracts for water treatment and management segment, Leighton has projects across the construction segment.

With the latest deal, Welspun has exited its entire engineering, procurement and construction business.

Now only orders in later stages of execution (worth Rs 200 crore or Rs 2 billion) are left with the company.

"We have been cautious in bidding in terms of type of projects.

"This is reflected in low order book, but we are comfortable in this position vs. creating a large order book based on aggressive bidding and having negligible margins.

"We have also scaled down the loss-making activities in Welspun Projects and are looking forward to an improved performance," the company says.

In the current slowdown, the company is not keen to spend more money in the sector even if cash was easily available from its private equity partner.

Since the first round of private equity funding, the group has taken a fresh view on its infrastructure business.

"Our infrastructure plans are static. We are not growing too much.

"We are completing our existing projects. We have four-five projects which we will be completing," Akhil Jindal, director, Welspun Group, had said earlier.

The company has also decided to go selective on bidding.

"We don't want to stoop to that. This market is a winner's curse," Jindal had told Business Standard in an interview.

The scenario at Welspun's other business Maxsteel is no good. Apollo had bought 12.5 per cent in Welspun Maxsteel for Rs 140 crore (Rs 1.4 billion) and agreed to invest Rs 130 crore in the steel business on account of capital expenditure.

But MaxSteel has been suffering losses owing to huge production costs due to the unavailability of cheap KG-D6 basin gas to run its plant.

In the absence of cheap gas, it has been forced to buy gas from the open market at much higher costs.

The current capacity utilisation of Welspun MaxSteel is around 50 per cent.

"Against our total requirement of 0.9 mmscmd, we are are getting about 0.2 mmscmd from GAIL and the balance is purchased from spot market," says the email.

The growth of MaxSteel and the infrastructure business was closely linked.

Welspun is a big player in the pipe-making business and as a natural extension to that business it saw an opportunity to enter the water pipeline business through its infra arm.

For this, it decided to plug the two important holes in MaxSteel with the help of Apollo.

One, getting its own iron ore and second, integrating the steel slab unit with the pipes business.

However, the backward integration at MaxSteel has virtually stopped because of its fundamental problems of managing costs and under-utilised capacity.

The company is hopeful things will change soon. "This kind of price difference between two parts of the world is temporary," it says.
The image is used for representational purpose only