India's manufacturing sector "held steady" in the month of September supported by faster output growth and rising export orders, an HSBC survey said.
The HSBC India Manufacturing Purchasing Managers' Index (PMI) - a measure of factory production -- stood at 52.8 in September, same as in August.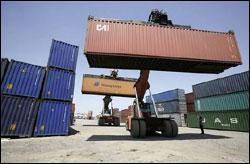 The September reading of HSBC PMI points to a significant improvement in health of the manufacturing space as the sector witnessed the weakest growth rate in nine months in August.
The index has remained above the 50-mark, below which it indicates contraction, for more than three years now.
"Economic activity in the manufacturing sector held steady supported by faster output growth and rising export orders. However, a rise in inventories may dampen output growth in coming months," HSBC chief economist for India and ASEAN Leif Eskesen said.
Going forward, output growth is likely to "dampen" as post-production inventories or stocks of finished goods have increased significantly, marking an 11-month sequence of accumulation as manufacturing firms are expecting a a boost in demand in the future.
"Looking ahead, growth in the manufacturing sector is likely to remain subdued, although implementation of recently announced reforms will help facilitate a gradual recovery during the second half of the fiscal year," Eskesen said.
The government has taken a number of reform initiatives like opening the multi-brand retail sector to FDI, hiking diesel prices by over Rs 5 a litre, capping the number of subsidised LPG cylinders to six per family a year, allowing foreign carriers to pick up stake in domestic airlines and liberalising FDI rules for broadcasting sector.
Inflation picture was a bit "mixed", HSBC said as output prices rose somewhat less, but input prices rose at a faster clip on the back of higher raw material and diesel prices.
Retail inflation in August stood at 10.03 per cent, according to official data.
On the employment front, job creation was recorded in September, the seventh successive month of growth. Payroll numbers were increased to meet stronger demand, with some signalling expansions in marketing departments, however, the pace of hiring eased a bit.
Meanwhile, power shortages continued to affect backlogs of work, which rose at a solid pace during the month, HSBC said.