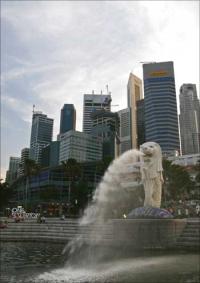 India is among the top five tourists generating nations for Singapore with a total of 171,000 Indians visited the city state in the first quarter of this year, according to data released by the Singapore Tourism Board.
During January to April, 171,000 Indians visited Singapore, an increase of 9 per cent from a year ago, said the Tourism Board.
India remained the top five tourist generating markets for Singapore, after Indonesia, China, Malaysia and Australia, it said. Overall, Singapore received 3.12 million tourists in the first quarter of the year, up 15.7
per cent from the same period of last year.
The Indians were also among the top spenders in Singapore, ranking fourth in 2010, after the Indonesians, Chinese and Australians.
The Indian tourist spending totalled SGD911 million (Rs. 33 billion) last year, up by 19 per cent from 2009.
The Indians spent 28 per cent of their money on shopping, 24 per cent on accommodation, 14 per cent on food and beverages and 34 per cent on other recreational activities.
The board said spending by 11.6 million tourist visits increased by 50 per cent to SGD18.9 billion (Rs. 686.448 billion) in 2010.