Credit Suisse says India has joined "the Cheapest-4 club" as of Tuesday, meaning among the four most inexpensive markets in the Asia ex-Japan region.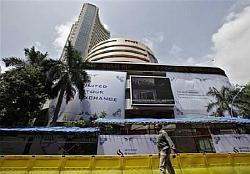 The investment bank says in 14 previous episodes in which India joined the club, domestic shares went on to outperform in 13 of them, the exception being in 2003.

Credit Suisse highlights Tata Motors Ltd, Reliance Industries Ltd, Bank of Baroda and Sterlite Industries (India) Ltd, citing valuations.

Credit Suisse also mentions Wipro Ltd and HCL Technologies Ltd among its top picks in
India, citing expectations for a corporate capex recovery.
Credit Suisse says the key risk to its call is that India is "over-owned" by foreign investors.