Russian and Indian companies including Tata Consultancy Services and JSC Helicopters on Monday signed three different agreements to set up joint ventures and strengthen technology partnerships.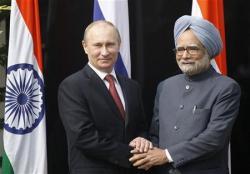 These agreements were inked on the occasion of the visit of Russian President Vladimir Putin to India.

Tata Consultancy Services and Russian firm Navigation Information Systems (NIS) signed a strategic cooperation agreement to establish and strengthen technology partner relations between the two enterprises in software development, systems integration, professional services for and marketing of NIS products.

"The areas of cooperation visualised concerned sectors such as information technology enabled services and emergency response systems," an official statement said.

A joint venture agreement between Elcom Systems Pvt Ltd and OAO Vertoleti Rassi (JSC 'Helicopters Russia') was also inked.

This "venture aims to set up in India, a modern industrial facility for manufacturing of Russian models of helicopters (Ka- and Mi- brands),"
it said.
"The JV will serve as an industrial base for hi-tech rotorcraft products from Russia to India and shall contribute to the development of the domestic aerospace industry. The enterprise will be eligible for implementing offset projects under various procurement tenders in India," it added.
JSC 'Russian Helicopters' is a leading player in the global helicopter industry engaged in the business of modern civilian and military helicopters and training of aviation personnel, it said.
Elcom Systems is an established entity in the Indian telecommunications, security and navigation sectors.
Further, Mumbai-based Elder Pharmaceuticals inked an Memorandum of Understanding with Pharm Eco of Russia for a joint venture arrangement.
According to a statement by the Indian firm, the MOU was signed for bilateral cooperation in the field of healthcare.