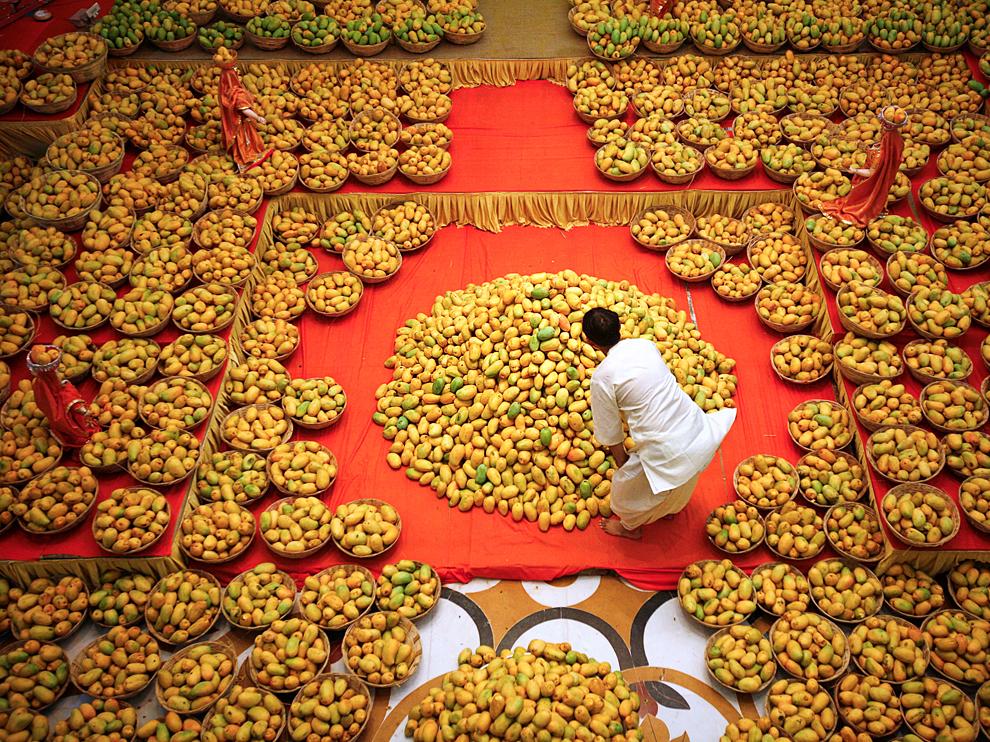 Leading British-Indian MP Keith Vaz on Tuesday took his fight against the European Union's impending ban on the import of Indian mangoes to the Prime Minister's office in London.
The senior Labour party leader accompanied representatives of retailers and importers of the fruit to deliver two boxes of Alfonso mangoes for Prime Minister David Cameron at 10, Downing Street this afternoon, ahead of the ban which comes into effect from Thursday.
"The Prime Minister has shown that he is a champion of our relationship with India. I understand that the Indian government has complied with the rules set out by the EU and there is, therefore, no reason for this ban to go ahead. It will cost millions of pounds of lost revenue to the British economy and result in millions of mangoes going to waste in India," Vaz said in a statement.
The Leicester East MP, who has been campaigning against the ban on behalf of his constituents, wrote a personal letter to Cameron highlighting the "devastating impact on retailers of mangoes in the UK with as much as 200,000 pounds lost to each business".
"It will also have an effect on the growers of mangoes in India, especially the Maharashtra and Goa regions," added the Goan-origin parliamentarian.
"I send with this letter, what is likely to be, one of the very last boxes of imported mangoes so that you can see for yourself the potential loss to the UK. I would be most grateful if you could do all you can to reverse this decision," his letter concludes.
Vaz, who had earlier written to the European Commission president and Prime Minister Manmohan Singh, has described the ban as "Euro-nonsense and bureaucracy gone mad".
A leading European trade body also attacked the EU decision to ban the import of Indian mangoes as "ill-conceived and misguided" earlier today.
The Brussels-based Europe India Chamber of Commerce (EICC) issued a statement on the ban, which the UK's Department for Environment, Food and Rural Affairs (Defra) has claimed was necessary due to the pests found in certain fruits and vegetables from India which could threaten Britain's salad crop industry of tomato and cucumber.
"The EU bureaucracy thinks that this decision will strengthen its bargaining position on FTA (Free Trade Agreement) and other bilateral issues with the new government but the EU's thinking is utterly 'misplaced' and very childish, and will only harden India's new government's attitude towards EU," warned Sunil Prasad, secretary-general of the chamber.
The EICC was set up to promote bilateral trade, investment and economic relations between the EU and India.
"Indian mangoes and vegetables are being imported to Europe for centuries and by banning these, the European Union has once again showed its immaturity and utter nonsense in policy decisions.
"There are countries in Africa and Asia where cultivation and packaging process of imported mangoes are far worse than India and by singling out India, the EU has demonstrated its complete disrespect and unbalanced attitude towards the existing negotiation on an FTA," Prasad said.
He expressed hope that the EU will rethink its decision and create a "conducive environment" where issues of bilateral trade can be discussed with the new government in New Delhi.
"Although WTO Agreement on Sanitary and Phytosanitary Measures allows countries to set their own standards, it also says regulations must be based on science and they should be applied only to the extent necessary to protect human, animal or plant life or health.
"In this case there was no scientific justification to ban mangoes as there was no appropriate assessment of risks," said the official, who has been campaigning for a multilateral rule-based trading system.
"I urge upon the European Union to behave like a matured trading partner and withdraw the decision with immediate effect so that the damage is not beyond repair," he stressed, adding that he will also raise the issue with the EU Ambassador during his visit to New Delhi next week.
Meanwhile, an e-petition titled 'Reverse Mango Import Ban' on the UK government website has crossed over 1,000 signatures as part of a campaign warning that the ban will severely impact importers and distributors across Britain.