Indian corporates' business confidence has seen a sharp erosion in June on account of deterioration in the macro-economic situation during the last six months, an industry chamber survey said on Thursday.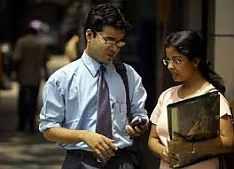 "As many as 51.6 per cent respondents in the survey said the macro-economic situation is worse than what was prevailing six months back...," Assocham said in a survey.

The survey, however, said a majority of respondents feel there is a silver lining as the situation is expected to improve in the next six months.

As many as 36 per cent of the surveyed people felt their bottom-line would recede during the period, it added.

"While the mood for future is somewhat optimistic, we have to ensure that the business environment improves and the domestic demand picks up especially at a time when hopes of global economic recovery are bleak," Assocham president Rajkumar N Dhoot said.

The chamber said it sought the views of about 1,000 companies in sectors including manufacturing, finance and IT.

India's GDP growth fell to 6.5 per cent during 2011-12 with the fourth quarter growth rate dropping to 5.3
per cent, the slowest in the past nine years.
The industry has been complaining of high interest rates and rising raw-material cost.
Both the government and the Reserve Bank should work together to provide a congenial atmosphere so that the industry can respond with better investment and consumers can get a boost, Dhoot added.
However, over 40 per cent of respondents said the investment level would not change in the next two quarters from the present level.
Further, the study said, majority of those surveyed felt prices will remain more or less unchanged in the next six months.
The survey said some felt the cost will be higher and the manufacturers would find it extremely difficult to pass it on to the consumers in the given scenario. Therefore, there is need for lower interest rates, they said.
The chamber sought a cut in repo rate and cash reserve ratio (CRR) by RBI during its monetary policy review on July 31 to ease liquidity situation.
Sectors like automobiles, realty and consumer durables are the worst affected by high cost of credit, the Assocham said.