India is ready for talks with the US on a bilateral investment treaty (BIT), which would reinvigorate trade ties between the two countries, Commerce and Industry Minister Anand Sharma has said.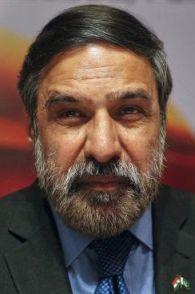 "We have said that 'yes, we are ready for it (Bilateral investment treaty). We are in favour of a bilateral investment agreement," Sharma told reporters at the conclusion of the Washington-leg of his US tour.

However, no date has yet been set in this regard, he said.

During his visit, Sharma had met the US Trade Representatives Mike Froman; delivered key note address to the US India Business Council (USIBC) and attended a meeting of the US India CEOs Forum.

"We have given our acceptance," Sharma said in response to a question during the press interaction.

"We would definitely be in favour of enhancing our economic partnership," he said.

"We clearly recognise that the economic engagement in both trade and investment, though robust, is well below the potential, given the opportunities that a growing economy like India offers and the opportunities that exists in the largest economy of the United States of America," he said.

Sharma said the target of $500 billion in bilateral trade by 2020 is doable.

"If we make real effort in five years, we can definitely by 2020 reach there," he said.

"As of now trade and services put together is about $106 billion and fairly balanced and it has the potential to multiply at least four fold," the Commerce Minister said.

"We have a road map and we have a structured format of our engagement," he said, adding that this visit of his, along with that of the Union Finance Minister P Chidambaram and the Deputy Commissioner of the Planning Commission Montek Singh Ahluwalia, along with other officials has reinvigorated the dialogue between the two countries.

"There was lot of positivity in our exchange and that gives us enough optimism that we will both be taking the desired steps and measure to ensure this partnership not only remains robust but also they are consolidated," he said.

Responding to questions, Sharma said he and Chidambaram have raised India's concerns with regard to the immigration bill in their meetings with their counterparts, and also at the India-US CEOs Forum.

"It is the USIBC which first raised it saying professionals working in these companies are providing a range of service and bringing much values to the businesses and it would affect both the companies, not only the Indian IT companies, but also US companies," he said.

"When it comes to professionals, these are individuals who are providing highly specialised services to help the businesses be competitive and also move up the value chain.

They cannot be categorised as immigrants," he said, adding that the Indian side raised its concerns.

"I hope that they have heard us and this will not happen. At least the legitimate concerns would get addressed. When professionals come for a short period of time as per the visa it would be unfair and not correct to categorise them as immigrants," Sharma said.

He hoped these concerns would get addressed when the final version of the immigration bill comes out.

The India US trade policy forum meeting would be held later this year in New Delhi, said Sharma, adding the dates were being worked out.

On reforms, Sharma said the Indian Government has taken a series of steps with regard to economic reforms including the Cabinet decision to raise the FDI in insurance sector to 49
per cent.
He said the government has also initiated reforms in the banking sector.
Responding to a question on India's low ranking of doing business," Sharma said: "Even if it is a perception, we are doing everything possible to correct that. And one of the major steps has been the National Manufacturing Policy which effectively addresses the concerns when it comes to the ease of doing business and mandatory approvals".
The National Manufacturing Policy, proposes to raise the share of manufacturing in our GDP from below 16 per cent to at least 25 per cent within a decade, creating 100 million skilled jobs.
The principle instrument is the national manufacturing and investment zones which would be stand-alone integrated industrial townships, he said.
"India will eventually become the manufacturing capital of the world," Sharma said.
India, he said, has put across to the US its view point with "clarity and sincerity" over the issues raised by the US businesses and lawmakers.
India is far more welcoming of US business than the current perception, he said, adding the government is working to address this perception.
"For the legislative reforms, we have had an unfortunate situation for quite a while, like partisan politics at its worst.
"And the principle opposition party instead of debating or discussing the issues that could be done in healthy or mature democracy, has prevented Parliament from debating any issue, from passing legislation..., he said.
The two countries, he said, have agreed to work together to ensure that the December meeting of the World Trade Organisation in Bali is a success.
"We have agreed to put together a work programme. Our chief negotiators and senior officials in Geneva will meet to discuss, so there is a broad consensus around the key issues of trade facilitation and food security," he said.
"We are for a healthy, positive and balanced outcome. We will work very closely with all our partners to ensure that the outcome is a positive one," he added.
Meanwhile, an official release issued in New Delhi said Sharma met US Commerce Secretary Penny Pritzker yesterday in Washington and conveyed his concerns over problems in free movement of Indian IT professionals.
"...the movement of highly trained professionals delivering technology services should not be mistaken with the immigrants.
"He shared the concerns of Indian IT industry with regard to inclusion of restrictive provisions on mobility of skilled professionals in the US Immigration legislation currently under consideration in the US Congress," it said.
Sharma said huge opportunities are there for the US businesses in the proposed National Investment and Manufacturing Zones. India has approved setting up of 13 such zones.
NMIZs will be mega industrial zones with world class supporting infrastructure. The government is offering a host of incentives and a liberalised labour and environment norms to promote these zones.
Both the sides agreed to maintain a high level of communication and strengthen functional dialogue mechanisms between the officials.
It said Sharma also met President and CEO of Walmart Asia Scott Price to discuss issues related to multi-brand retail trading.
He also met
Amazon.com
's Vice President for Global Public Policy Paul Misener to discuss issues pertaining to e-commerce.
Image
: Commerce and Industry Minister Anand Sharma