A booming Indian economy, that is spending billions in building infrastructure and meeting energy needs, besides making defence purchases, offers stunning opportunities to US companies, an official has said.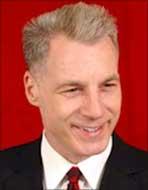 Ron Somers, president of the US India Business Council said with the US economy emerging from a devastating global recession, it was fortunate for the country to have India as a "vigorous trading partner".
"A true partner with the United States in every sense of the word, India is a nation comprised of a free people who look forward to a bright future - imbued with hope and determination, and a vision that will shape the destiny of the 21st century," Somers wrote in an op-ed in The Hill, a congressional newspaper.
"The Indian consumer values state-of-the-art technology and is likely to buy American-made goods and services before all others," he wrote.
Somers, who played a key-role in the US-India civilian nuclear deal, said the new opportunities being made available to the American companies in part can be attributed to the nuclear agreement initiative bearing fruit.
This agreement, overwhelmingly passed by Congress in 2008, means job creation for both countries: In the United States, as it digs out from a crushing recession, and in India, as it attempts to employ three-quarters of a billion people younger than 35," he said.
"India is meeting this demand by continuing to strengthen its commercial ties with US businesses," he said.
He pointed out that the country recently purchased $6 billion worth Boeing aircraft from the US, which will create thousands of American jobs at a time when they are so desperately needed.
"Moreover, this procurement attracts an offset obligation in India, which means US suppliers will be enlisting American and Indian vendors and subcontractors to manufacture some of this order on India soil," he said.
He said this is just a preview of what is to come as part of India's defense and counter-terrorism purchases that will amount to more than $50 billion during the next five years.
"These are not just one-off sales of American equipment. Rather, these sales amount to the transfer of technologies and platforms that will shape the defense and security relationship between the United States and India for the next two generations," Somers wrote.
"US businesses and workers welcome such job creating opportunities. But there is more than defense contracts that bind our relationship," he said.
Somers cited the announcement of India's Planning Commission of USD 1 trillion worth of new ports, airports, interstate highways, electric power stations, and transport hubs by 2015.
"As the price tag for this infrastructure will exceed India's budget, the balance of the financing will come from financial institutions.
"This creates a major upside for American banks, insurance companies and pension funds, not to mention the construction companies, the equipment suppliers, and the US engineering firms sought after by India to implement these projects," Somers said.