India must work towards creating an investor friendly business climate as both foreign and domestic companies face hurdles in doing business here, Planning Commission Deputy Chairman Montek Singh Ahluwalia said on Wednesday.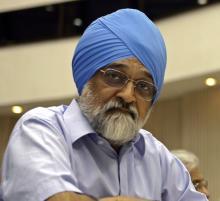 "All companies, not just Japanese but even Indian companies face a lot of hurdles because I don't think we have created a business environment in our country where people would say that there are no hurdles. We should work towards that," he said.

Ahluwalia was speaking on the sidelines of India-Japan partnership symposium organised by Confederation of Indian Industry (CII).

He said it was a genuine issue and much of these problems arise at the level of state governments rather at the central
government level.
"I generally do agree that...I don't think it is so much a problem at the central government level but I think many clearances at state government level do create problems," Ahluwalia said.
He further said the state governments should create an environment conducive enough for doing business and must look at their procedures relating to it.
"I think every state government that is interested in creating impression that it is pro-investment, should comprehensively look at its procedure and make sure that both domestic and foreign investors say that things are really cleaned-up," he added.
Earlier this year, the Prime Minister of Singapore Lee Hsien Loong during a visit to New Delhi had said that India's business environment is "complicated" for investors who want policy stability.