MasterCard's India-born President and CEO Ajay Banga on Sunday said India is a "more exciting" market than China for the cards and payment giant and the company is focused on shifting as many consumers in India as possible from cash to the electronic payment system.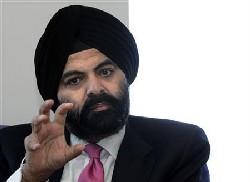 "India still uses a lot of cash in its economy. All I am interested in is converting utilisation for retail payments from cash to alternative forms," Banga said.

Speaking on the sidelines of the 'India Conference' organised by the Harvard Business School (HBS) and Harvard Kennedy School, the IIM Ahemdabad alumnus said India is undertaking various steps to help drive "electronification" - from the unique identification number scheme to mobile payments.

Sheer availability and acceptance of cards will help drive growth of the electronic payment system in India and "I am keen to do that," he said.

Banga, who was named MasterCard CEO last year, added that cash is expensive for an economy to print, distribute and secure, costing between 0.6 to 1.5 per cent of the country's GDP.

The presence of cash in an economy also facilitates income tax evasion as well as illegal cross border activity.

"Electronic payment would not facilitate that," he said, adding that the market in India is ready for a boom in use of electronic payment systems.

Earlier, when asked by HBS Dean Nitin Nohria to choose between India and China in terms of which is the "more exciting market for MasterCard", Banga replied "India."

He said the world over, the "tonality" regarding India has changed completely. This is a testament to the country's "unbelievable economic growth," he said, adding that hopefully, India's GDP growth rate will surpass that of China's in a few years.

Speaking to Harvard students, Banga said the most interesting part of India's growth story is that the economic development has continued irrespective of which political party is in power.

Lauding India's entrepreneurial energy, Banga said India has the opportunity to have balanced domestic and external growth as well as "diversified growth" in areas like services, agriculture and industry.

He pointed out that while in the short and medium term, the services sector will create more jobs, India has to build its manufacturing capabilities for sustained economic development.

"Eventually India has to go past the services sector into developing manufacturing. There is need for the manufacturing sector to drive subsequent growth," which would require a series of reforms on capital formation, land acquisition and more infrastructure development in non-urban areas.

India has to strike a balance between "knowledge intensity and labour intensity" to ensure sustained growth, he said.

"We should not go only for labour intensity, we need to use knowledge intensity for our benefit to make our economy an innovation driven one," he said.

While pointing out that India has the advantage of a "demographic dividend", Banga said sheer size of a young population will alone not result in growth for the country going forward.

He said efforts have to be made to improve the quality of life for Indian citizens, an issue which is a matter of concern and poses real challenges to the India growth story.

He said issues like healthcare, education, infant mortality rate are "challenges and need urgent addressing".

He called on the Indian private sector to partner with NGOs to help improve the quality of life in India.

"Private sector needs to be willing to give a great deal more into charitable causes," he said, adding that while some people have begun giving more to charity, "there are still lots to be done."

On the issue of various corruption scandals that have hit India, Banga said institutional corruption is a "very serious issue" and added that change can be brought about even by a single person.

He said people in India see the corruption scandals as a "blot on our face" and are reacting strongly against them.

"This sense of self respect can bring about changes," Banga added.