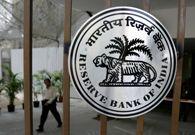 Corporate India on Monday urged the Reserve Bank not to further tighten its key rates during its monetary policy review next month, on the ground that interest rates are already very high.
"Liquidity is tight...I think it would be desirable to pause for a little while before we take any further steps and I think the current situation warrants a pause," Larsen and Toubro's Chief Financial Officer, Y M Deosthalee, told PTI after meeting RBI top brass.
RBI has hiked its key lending rates -- the repo at which it lends to banks and the reverse repo at which it borrows from them -- five times this year after the dust caused by global slowdown settled down and headline inflation numbers kept on increasing.
The apex bank says the calibrated hikes are a part of its efforts to tame inflation and necessary as the economic climate normalises. It is widely speculated that the RBI will hike its key rates by 0.25 per cent each in this policy.
Rate hikes have a direct impact on interest rates and the industry wants to borrow at lower rates to fund its projects.
The RBI will be coming out with its quarterly monetary policy review on November 2 and senior officials today elicited views from trade bodies, corporates and rating agencies for the same.
President of industry body, Assocham, Swati Piramal, also said that "(since) the interest rates are already high," the Chamber is against "further tightening" of the rates which was conveyed (to the RBI).
Rating agency ICRA's Managing Director and Chief Executive, Naresh Thakkar, also said that the RBI should pause on rate hikes. "Investment demand is showing some signs of a slowdown and overall, we are getting mixed signals. There is merit in waiting for things to clear," he said.
While asking the RBI not to jack-up rates, exporters' body, Federation of Indian Export Organisations emphasised the need for more steps to tackle the volatility in exchange rate.
The rupee has been steadily appreciating against the dollar on the back of record capital flows into India which has the potential to make the country's exports uncompetitive in the international market.
The RBI Governor had recently said that the central bank would intervene in the forex market if it feels the inflows are "lumpy".