Walmart, the world's largest retail chain, has referred to the Bharti Retail outlets as "franchised" in its annual report for the financial year ended January 31, 2013, filed with the US markets regulator, the Securities and Exchange Commission.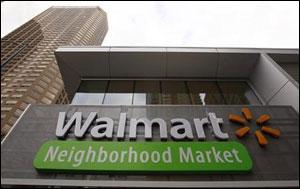 While elaborating on its international business, including the cash-and-carry or wholesale stores in a joint venture (JV) with the Bharti group, Walmart has pointed out that the list does not include the "franchised" retail stores. "In India, the (Walmart) business is operated as cash and carry. Retail units in India are franchised and are owned and operated by Bharti Retail," the report says.
The mention of Bharti Retail in the American chain's annual report is striking as Walmart and its cash-and-carry partner Bharti have always distanced themselves when it came to the retail business. The two have been under the scanner of the Enforcement Directorate (ED) over alleged violation of the Fema (Foreign Exchange Management Act) rules.
Till September 2012, foreign direct investment (FDI) was not allowed in the retail business in India. But there was no FDI restriction in operating the wholesale business. Also, foreign chains were permitted to offer back-end support to Indian retail. The government opened up the retail sector on September 14, 2012, allowing up to 51 per cent FDI.
Walmart and Bharti Retail have claimed so far that there are no linkages between the two apart from back-end technological support in that business. After FDI was allowed in the sector last year, Bharti called Walmart its "natural partner" and said the cash-and-carry JV was likely to be extended to retail.
Walmart did not give a clear indication of the road ahead at that point, but the expectation was that the two would go together in retail business, converting Bharti Retail's over 200 Easyday stores in the country. When asked on extending the tie-up with Bharti for retail, a Walmart spokesperson said, "We value our relationship with Bharti, but have no immediate announcement."
However, none of the international retail chains, including Walmart, has taken any action in starting their stores in India even six months after foreign investment was allowed. Besides the ED investigation, Walmart has been facing rough weather in India over its declaration to the US Senate that it paid lobbying charges to gain greater access in emerging markets, including India.
Walmart has clarified that such a declaration is mandated by the American government, but a one-man committee, headed by retired justice Mukul Mudgal, is investigating the matter. The American chain has also been under attack over alleged bribery cases involving some of its executives across geographies.
The Walmart spokesperson said, "We look to working with the government of India to understand the rules that exist for FDI and are committed to following those."
According to experts, foreign retail chains will wait till the general elections of 2014 before starting their stores in India. Apart from Walmart's trouble and the slowdown hurting the international chains, the political climate in India has prevented them from initiating action in retail. State-wise roll-out of retail stores, with several states opposing FDI in retail, has been a major hurdle.
Without naming India, Walmart's annual report says "local laws can affect our ability to acquire attractive pre-existing buildings in which to locate units or sites…." The report mentions factors like political conditions, including political instability, economic conditions, legal and regulatory constraints, anti-money laundering laws as impediments in several geographies. It adds: "If we do not effectively execute our expansion plans for our Walmart International segment, our financial performance could be adversely affected."
Of its 20 cash-and-carry outlets in India till December 2012, only two are owned and operated by the company, while the rest are leased and operated. Walmart International is planning a capex of $4.5 billion to $5 billion in FY2014. The international business (outside the US) consists of retail operations in 26 countries, and it generated 29 per cent of the FY 2013 net sales. The company had a global revenue (including the US) of $469.2 billion in the financial year ended January 31, 2013.