Turmeric has reaped gold in Andhra Pradesh's Nizamabad district. Turmeric farmers B Pedolla Chinnaya and Badam Maruthi are celebrating their new prosperity at the local auto dealer. While Mr Chinnaya has plumped for a Hyundai Santro, Mr Maruthi has used his cash bonanza on namesake Maruti Swift.
Chinnaya and Maruthi belong to Ergatla village where each has about four acres of land.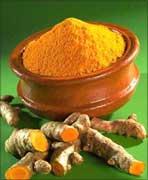 While Chinnaya has made Rs 9 lakh from 90 quintals of turmeric he produced, Maruthi has earned Rs 8,50,000 from 85 quintals.
While many local turmeric farmers like them have been besotted by new cars, at least 15 others who have put their cash to more productive use, buying tractors. Building houses and sending children abroad for higher studies is becoming common. For instance, in Ankapur village of Armoor taluk there are at least 75 families whose children are in the US, UK or Australia for higher studies.
Thanks to the highest ever prices prevailing for turmeric in the just-concluded harvest season, turmeric farmers have realised up to Rs 16,700 a quintal last month. An all-time high. Average price this season has not been less than Rs 11,000 a quintal. Last July's best price was Rs 7,000 a quintal, hovering around Rs 5,200 for the rest of the season.
Another turmeric farmer, B Sai Reddy, has encashed a cool Rs 1.21 crore (Rs 12 million) from his 50 acres of turmeric harvest this season. The average yield was 25 quintals an acre. Sai Reddy devoted the rest of his farm of 128 acres to cultivate vegetables and millets such as red bajra, jowar and soya. Sai Reddy has invested his earnings in a new drip irrigation pipe factory, the unit cost of which was around Rs 1 crore (Rs 10 million).
Ergatla apart, farmers in Noothpalli, Gangasaran and Donkeshwar villages of Nandikota mandal, Ankapur in Armoor and Ansapur in Velpur mandal are among those who have bought or have booked a car or a tractor. The choice of cars, however, has been limited to Santro, Verna and Swift.
Reaping the bonanza
Year
Arrivals
(in qtl)
Model
price/qtl 
(in Rs)
2002-03
484,993
2,213
2003-04
521,625
2,450
2004-05
409,223
2,375
2005-06
583,730
2,350
2007-08
576,134
1,850
2008-09
554,788
3,850
2009-10
181,726
11,000
"The car is now a new status symbol," says G Ganga Reddy, a turmeric farmer from Noothpalli. A 10-minute stay at the village centre showed how. Several gleaming brand-new Swifts and Santros were seen crisscrossing the area. Two-wheelers and mobile phones are of course an integral part of every farmer's personal ensemble.
According to farmers and officials, increase in demand for turmeric in the international markets, particularly in West Asia, and a low crop last year that stifled supplies, increased the demand for turmeric this year. Turmeric business in Nizamabad this season is valued at over Rs 500 crore (Rs 5 billion).
Last year it was around Rs 200 crore (Rs 2 billion). In fact, the demand for turmeric started soaring from August last year when the model price touched Rs 7,600 a quintal. It went up to Rs 9,150 in October, Rs 11,500 in November, Rs 10,100 in December, Rs 9,850 in January 2010, Rs 8,900 in February and Rs 11,000 in March.
In the state, turmeric is cultivated in about 63,000 hectares. Nizamabad alone harvests in about 10,000 acres. This year's high prices are unusual, with turmeric prices breaching record figures.
"I am hopeful of the prices touching Rs 20,000 a quintal," says P Chinna Reddy, who dedicated five out of 10 acres he owns, to turmeric. He still holds about 50 quintal of the commodity and is willing to dispose of the stock at an average price of Rs 15,000 a quintal.
L Lakshman Reddy, also from Noothpalli, however, has not been so lucky. He cut down on the crop to one acre from three acres and sold turmeric worth Rs 150,000 before realizing the soaring prices.  "I am getting back to three-acre turmeric from the next season starting July," says Reddy.
All the villages reaping the bonanza have incidentally turned to new technology. They have replaced the kadai, a huge iron vessel used to boil turmeric, with steam boilers.
The input costs for turmeric this season have been between Rs 80,000 and 90,000, including Rs 40,000 for seed. Most farmers, however, have used seed from last season. This apart, fertilizer, mostly biomanure, costs about Rs 20,000. Turmeric needs at least one labour everyday for eight months beginning June or July, when the sowing starts. Boiling expenses come to Rs 5,000 and blackmud, another Rs 10,000.
According to Bansilal, secretary of the Nizamabad Market Committee, turmeric from this market is taken to Saangli, Erode, Mumbai and Gulf countries.
"A 10-15 per cent increase in acreage is inevitable next year. However, we are not sure if the prices will remain at this level. The prices will stabilise to Rs 6,500-7,000 a quintal," he said.
About 25 traders operate at the Nizamabad market. During the peak months of February, March and April, 2,500-3,000 farmers dispose of stocks everyday.
Turmeric farmers nevertheless are well-off in this region.