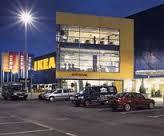 Swedish furniture major IKEA has identified four states -- Haryana, Andhra Pradesh, Maharashtra and Karnataka -- to set up single brand retail stores as part of its Rs 10,500-crore (Rs 105-billion) investment in India.

The company's plan was conveyed by IKEA chief executive officer Mikael Ohlsson, who met Commerce and Industry Minister Anand Sharma in New Delhi on Monday, sources said.

"The CEO informed the minister the company's plans to invest in India, including starting of land purchase process in these four states," they said adding the company is also looking at Noida in Uttar Pradesh to set up stores.

The firm has incorporated its Indian subsidiary as IKEA India Ltd.

The company would enhance its sourcing from India and would collaborate with handicraft, handloom and National
Institute of Design for its products, they said, adding the firm would also help in skill development initiatives in the country.
The government on May 2 approved IKEA's Rs 10,500 crore proposal for setting up home furnishing stores in the country.
As on date, the Swedish retail major's investment is the largest in the single-brand segment ever since the government allowed 100 per cent foreign investment in this sector last year.
The firm had proposed setting up 10 furnishing and homeware stores as well as allied infrastructure in over 10 years in India. Subsequently, it plans to open 15 more stores.
The company has been sourcing many products from India for the past 25 years.
IKEA has also been allowed to run cafes and restaurants within its single brand stores in India, but it cannot sell packed food items.
It can sell food and beverages at its restaurants/cafes located within its stores.