An environment impact assessment study by the Indian Institute of Technology, Mumbai, for the proposed Navi Mumbai international airport, has categorically said there should not be any compromise on retaining the geomorphology of rivers, the aquatic life and mangroves in the airport zone.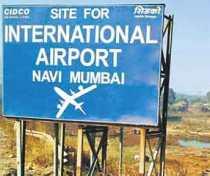 The study has called for additional plantation of mangroves on 350 hectares. It has called for implementation of a Rs 370-crore a (Rs 3.7 billion) rehabilitation and resettlement (R&R) policy for 10 settlements of seven villages in the airport zone.
The R&R policy envisages a one-time financial grant for construction of a house, freehold ownership with a concessional floor-space index, subsistance allowance for a year, reservation for jobs and allotment of preferential equity shares to project affected persons.

The EIA has been given by the Union ministry of environment and forests to the Maharashtra government and its City and Industrial Development Corporation. It will then be revised to make a final EIA, incorporating MoEF's suggestions for action. The final EIA would then be placed before the Expert Appraisal Committee for the airport project.

An MoEF official said the assessment would cover the hydrological regime and the project profile of the site, besides the type of mangroves that are to be felled and replanted.
"The 600 hectare area has 50 hectare of mangroves that are to be replanted. Moreover, the site has to be three metres above the sea level. The diversion of two rivers will also have to be looked at," the official added. To establish the feasibility of the project, the EIA will also touch upon the rehabilitation of 10-15 settlements near the site.

An area of 161.50 hectares has been found to be affected due to the airport project, based on a Satellite Remote Sensing Study. Double that area of  mangroves need to be planted in accordance with the order of the Mumbai high court.
Accordingly, 350 hectares has been identified for plantation of mangroves at Dahanu taluka of Thane district.

A study was carried out to examine the airport development over 1,615 hectares by retaining both the Gadhi and Ulwe rivers as they presently are.
"It was concluded that the development of the airport without diverting the Ulwe river and training of the Gadhi river is not technically feasible and viable, as this option cost about Rs 16,000 crore and defeats the very purpose of retaining the geomorphology of rivers and its aquatic life and mangroves," the study noted.