Leading private sector bank ICICI Bank will charge its customers Rs 5 per transaction from next month for transfer of funds over mobile phones, a service available for free as of now.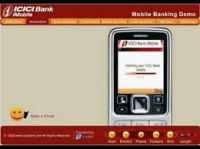 The fee for inter-bank transfer of funds would be levied from April 1, along with a slew of revisions in the bank's various service charges.

Its peer HDFC Bank has already revised service charges with effect from January 1, when it also introduced charges for a few services. Banking industry experts said that a few other private sector banks could also soon revise these rates.

As per a circular issued by ICICI Bank, it will levy a service charge of Rs 5 per transaction on its IMPS (Interbank Money Payment Service) customers and would also limit such fund transfers at Rs 50,000 per transaction a day.

ICICI Bank is one of the top banks offering this service and has more than 30 lakh customers using the facility.

Regarding many other service charges, ICICI Bank has also decided moved to a monthly-basis
of levying fees and maintenance of minimum account balance, from quarterly now.
For regular savings accounts, ICICI Bank would require its customers to maintain a monthly average balance of Rs 10,000 in metro and urban locations, Rs 5,000 in semi-urban and Rs 2,000 in rural areas.
For non-maintenance of minimum balance, it would levy a charge of Rs 250 per month in metro/urban areas, as against Rs 750 per quarter currently, in case of the average balance being Rs 5,000-10,000 and Rs 350 per month for average balance falling below Rs 5,000.
For ECS debit returns, the bank has increased the charge from  Rs 250 per return to Rs 350 with effect from April 1.
The bank would allow four free cash transactions at the base branch in a month, as against 12 in a quarter now, and would levy a charge of Rs 90 per transaction thereafter (from Rs 50 currently).
However, the bank has withdrawn its charges for all multi-city cheque payments, which is currently charges at Rs 3 per Rs 1,000 for transactions above Rs 50,000.