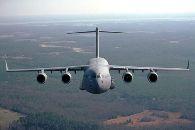 A powerful American Senator has welcomed the C-17 aircraft deal announced by the Indian Air Force (IAF), a development which is expected to create more than 22,000 jobs in the United States.
"The purchase of 10 C-17 aircraft represents a great investment in Connecticut's defence industry. This agreement strengthens our relationship with India's robust economy and supports defense jobs at Pratt & Whitney's East Hartford and Middletown locations, giving our state's economy a much needed boost," Senator Christopher Dodd, who represents Connecticut in the US Senate, said.
"It is my hope that this increase in business will also persuade United Technologies to reconsider its plans to close two of its Connecticut plants," the Democratic Senator said in a statement after it was announced that the IAF has signed a preliminary agreement to purchase 10 Boeing C-17 Globemaster III military aircrafts with Pratt & Whitney engines.
The announcement was made during the India visit of US President Barack Obama. According to the White House and Boeing, this trade agreement is valued at approximately $4.1 billion and would support the creation of an estimated 22,160 jobs nationwide.
Once the agreement is fulfilled, the IAF will be the owner and operator of the largest fleet of C-17 aircraft outside of the United States.
The US-India defence relationship has grown from solely military-to-military links into a mature partnership that encompasses dialogues, exercises, defense sales, professional military education exchanges, and practical cooperation, a fact sheet issued by the White House said.
Obama and Prime Minister Manmohan Singh reaffirmed the importance of maritime security, unimpeded commerce and freedom of navigation in accordance with relevant universally agreed principles of international law, the fact sheet said.
"A continued robust slate of exercises and exchanges will expand contacts between the US and Indian militaries. The leaders highlighted that India currently conducts more exercises and personnel exchanges with the United States than with any other country," it said.
"The US and India reiterated their commitment to regular staff talks, reciprocal distinguished visitor exchanges, and other bilateral and multilateral exchanges. The leaders recognized that cementing a fully formed bilateral relationship requires more than formal visits and high-level dialogues and pledged to work enhance close US-India defense cooperation," it noted.