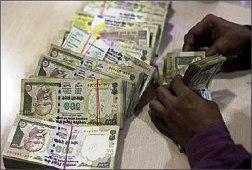 The rupee on Monday plunged by 80 paise to close at more than 8-week low of 54.61 on massive dollar demand from banks and importers amid a sharp rise in the American currency in global markets ahead of US Presidential polls.

This is rupee's second biggest loss in 2012.

The rupee's biggest daily loss was on June 22 when it fell 85 paise.

On October 8, it had lost 79 paise.

The local currency weakened despite FII inflows worth nearly $70 million (Rs 374 crore) in stocks.

The local currency opened lower at 54.10 per dollar as against the last weekend's level of 53.81 at the Interbank Foreign Exchange (Forex) Market.

For some time rupee hovered in a narrow range, before dropping to 54.65 after importers and banks rushed to buy dollars.

In Tokyo, the dollar hit a two-month
high against a basket of major currencies today after job reports last week highlighted relatively solid US economic fundamentals.
At closing, the rupee finished a tad better from day's lowest levels closing at 54.61 per dollar, a loss of eighty paise or 1.49 per cent from previous closing.
The rupee had last ended at 55.43 per dollar on September 13, 2012.
"Weakness in rupee was attributed to the Euro which fell below $1.28 and the dollar index which is sustaining above 80.50 levels. . . investors are shifting to safe-haven amid uncertainty over US elections and Greece bailout," said Abhishek Goenka, Founder & CEO, India Forex Advisors.
The dollar index, a measure of the dollar's value against six major currencies, today rose to as high as 80.629, its highest level since September 7.