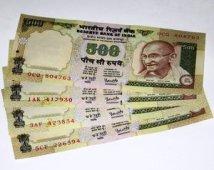 In volatile trade, the rupee on Tuesday dropped by seven paise to close at 55.65 against the US currency, notwithstanding RBI announcing easing of norms with regards to retention of foreign exchange earnings.
Traders said sustained month-end dollar demand from importers amid RBI maintaining a status quo on key policy rates put pressure on the rupee.
The currency opened higher at 55.40 a dollar from its previous close of 55.58 on firm local shares and dollar weakness in Asian markets at mid-session.
However, the rupee immediately turned negative on month-end dollar buying by importers, mainly oil refiners.
The mood also soured further as RBI maintained its status quo approach and kept key policy rates unchanged in its first quarter monetary policy meeting.
During trade hours, RBI announced that corporates and exporters will be allowed to retain foreign exchange earnings as against the earlier provision that 50 per cent of exporters earnings in foreign currency had to be converted into rupee.
This is expected to increase the demand for rupee, said experts.
Later, the rupee touched a low of 55.85 before finally recovering some ground to settle lower at 55.65. Yesterday, it had dipped by 24 paise or 0.43 per cent. If it was for Rs 880
crore FII inflows into stocks, the fall in rupee would have been greater, said forex dealers.
Bankers said some late weakness in dollar also gave some support to rupee. The dollar index was down by 0.11 per cent against a basket of six major currencies ahead of the US Fed's two-day monetary policy meeting, starting late today.
"The rupee was seen quite volatile after the monetary policy review. RBI tried to influence the market by releasing new guidelines on EEFC account and forward rebooking and cancellation," said Abhishek Goenka, Founder & CEO, India Forex Advisors.