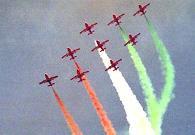 The panel on the media's view of 'India: The Decade Ahead' at the 6th Annual India Business Conference of the South Asian Business Association at Columbia Business School spoke of India from a balanced perspective. They had all worked in media houses in both India and the US.
Anand Girdharadas, columnist for The New York Times and the International Herald Tribune, said he grew up in the West at a time when India's image was the stereotype of snake charmers and sadhus.
After graduation in 2003, he moved to India on work. "I found another country there. Earlier, what used to anger me most was the serene acceptance of the destiny by the people...it changed," said Girdharadas, who moved back to the United States after a six-year stint in Mumbai.
S Mitra Kalita, deputy global economics editor, The Wall Street Journal, had left The Washington Post to take up a job in Mint in Delhi. As a US-based journalist, she did not look at Indian journalism seriously. But after two-and-a-half years, she returned to the US with much respect for it.
Kalita also spoke of a major story they broke on corruption in the education ministry. They had expected the minister to go, but nothing happened. However, she said, there were some victories in the fight against corruption, and in India one should celebrate even the small victories.
Unlike Girdharadas and Kalita, Aparisim 'Bobby' Ghosh, deputy international editor, Time, grew up in India and started his career in the Indian media. In the late 1980s, he was working at Business Standard in Kolkata.
There was only one computer and his interest in it made the editor assigned him to the information technology beat.
Though he did not like the new field much, he liked the move to Bangalore. IT was in its infancy, and he met young IT minds full of dreams. Soon, the IT revolution started and some of the same men became millionaires. Before that period, entrepreneurship was limited to a few families like the Tatas and Birlas.
In the 1990s, a new class of businessmen changed the whole scenario, Ghosh said. But, he added, the party would end if more people were not included in it. Industries and business should be more responsive to the plight of the ordinary people.