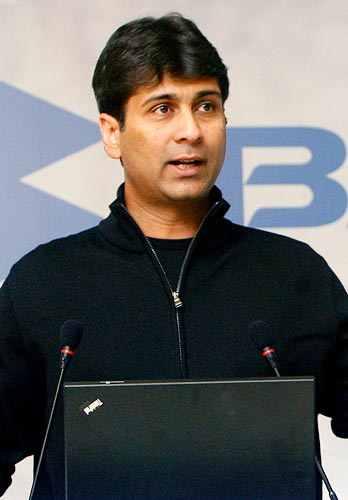 The strike at Bajaj Auto's Chakan plant came at a time when cuts in production in the automobile sector in the Pimpri-Chinchwad-Chakan belt led to many job losses, especially for contract workers.

This, together with the fact that Bajaj doesn't hire contract labour, helped the management impel the union to withdraw their 50-day strike at the two-wheeler plant unconditionally.

The union had clearly chosen the wrong time to strike work, in the midst of a downturn that adversely impacted this industrial belt -- one of the leading automobile hubs in the country.

The automobile industry has invested about Rs 50,000-crore (Rs 500-billion) in the Chakan belt.

Experts say about 40,000 contract workers, accounting for 80 per cent of the automobile workforce in this belt, have lost their jobs.

There are about 200,000 workers in the automobile sector across the Chakan belt, primarily in small-scale units.

"We realised contract labour does not have the same commitment. So, we decided to hire only permanent workers in the core areas of operations," says Rajiv Bajaj, managing director of Bajaj Auto.

However, the company has an 'earn while you learn' trainee scheme, under which trainees get the same wages as permanent workers.

About half of these trainees are absorbed in the company, depending on their performance and the plant's requirements.

At Bajaj's Chakan plant, there are about 900 permanent workers and about 500 trainees.

During the strike, the trainees, who weren't part of the union, kept the factory from being shut, churning out about 1,200 bikes, about a third of the normal production.

The union's demand that the wage agreement be cancelled and a new one be put in place didn't have much teeth.

Bajaj has always ensured despite being a two-wheeler manufacturer, wages at the company are benchmarked with those at large car companies in the belt, including Tata Motors, Volkswagen and Mahindra & Mahindra.

Bajaj says its average salaries of about Rs 25,000 a month are comparable to the best in the region.

For contract workers, the average wages in the belt are Rs 7,000-12,000 a month.

Though the workers' union at Bajaj's Chakan plant received some support from local politicians, such as a few Shiv Sena leaders, and activists such as Medha Patkar, its key demand of shares for workers, something not seen in any Indian automobile company, didn't strike a chord with national and state level politicians.

"During a recession, a demand for shares and scrapping a wage agreement that offers a 12 per cent salary increase every year cannot win the hearts of workers," says a senior central union leader.

Bajaj Auto, unlike Maruti (Gurgaon-Manesar) or Volkswagen (Chakan), which have production capacity based in a single area, has the flexibility to move production out of Chakan to other plants located in Pantnagar and Aurangabad in a short time.

The company's management says the process could have taken a month. And, this doesn't entail major costs, as many of the vendors are common across locations.

That is why Bajaj had given an ultimatum that it would permanently shift half its production from Chakan to other locations if workers did not return to work.

It was able to quickly shift production of about 1,000 bikes, to be produced at Chakan, to Aurangabad.

Both major automobile companies, as well as the 8,000 small and medium units (mostly vendors) in the region have cut production. For instance, Mahindra & Mahindra has done away with 1,000 temporary workers at its Chakan and Nashik plants.

In July, Tata Motors had to shut its car plant near Chakan for six days.
Image: Rajiv Bajaj