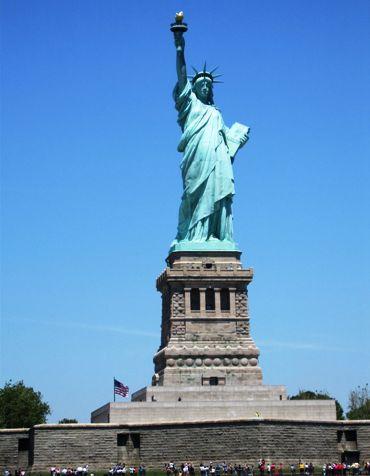 Gujarat Chief Minister Narendra Modi announced on Thursday his government's plans to build what could arguably be the world's largest statue, of India's 'Iron Man', Vallabhbhai Patel.


At 182 metres (392 ft), the proposed Sardar Patel Monument, coined as 'Statue of Unity', will be double the height of  New York city's famed 'Statue of Liberty' (93 metres), five times the height of the statue of 'Christ The Redeemer' in Rio de Janeiro (39.6 metres) and one and a half times of the Sardar Sarovar Dam (122 metres) itself.


The grand monument will be placed directly facing the Narmada Dam, 3.2 km away at the Sadhu Bet, nestled at the foothills of the Satpura ranges and garlanded by mountains.


According to a state government brochure, the statue will come up opposite the Sardar Sarovar dam in Narmada district.


A registered society under the chairmanship of Modi will be formed to implement the project.


While initial processes for obtaining permissions and sourcing expert opinions are underway, the entire monument will built on a Public Private Partnership model, with most of the money to be raised by way of public contribution.


"Sardar Patel's memorial will be the tallest, beyond comparison, reminding
every onlooker not only of the Freedom struggle but of the story of a United India.
It will be a constant inspiration towards fulfilling the dreams of Suraaj (good governance)," said Modi, who will enter the 10th year of his tenure as CM of Gujarat on Thursday.


"The life of a man as great as Sardar Patel is something that India cannot simply afford to fade away into pages of history.


"To keep him alive in the hearts of the generations to come is the only true tribute that he can be commemorated with. It is thus in order to make Sardar Patel a source of inspiration for every generation that such a massive project is being undertaken," the brochure stated.


Visitors at this statue will be able to get a panoramic view of the picturesque surrounding from a height of almost 400 ft. The monument is expected to boost tourism and facilitate development in the surrounding tribal areas.


The area surrounding the monument will have a viewing gallery and a museum on the life of Patel.