A new drug price control policy at long last, restrictions on multinationals taking over domestic firms and India cracking down on foreign firms' patents marked the year 2012 for the country's $22 billion pharmaceutical sector.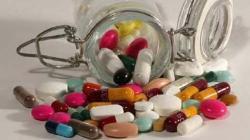 It was the government that hogged the limelight this year as far as the sector is concerned, unlike in the past when corporate mergers and acquisitions stole the show.

After years in the making, the government eventually cleared the new National Pharmaceutical Pricing Policy-2012.

It brought under price control 348 medicines included in the National List of Essential Medicines (NLEM) - accounting for 60 per cent of total domestic pharma market - amounting to nearly Rs 29,000 crore (Rs 290 billion).

The Supreme Court had also pulled up the government for not taking any decision on bringing more drugs under the price control for many years.

As per the policy, prices of essential medicines will be capped by taking simple average of all brands, which have more than 1 per cent market share, instead of input costs, as was followed earlier.

While the government was clear that the policy would bring down the prices of leading drug brands, industry players were of the opinion that it would hurt investment sentiments.

"A preliminary working shows that prices of many leading brands will be slashed by 50 per cent to 80 per cent. This will reduce industry profit by half to Rs 4,000 crore (Rs 40 billion) on domestic sale of Rs 67,500 crore (Rs 675 billion)," Indian Pharmaceutical Alliance (IPA) Secretary General D G Shah had said.

This will hurt investment climate in the country and may also deter companies from investing or expanding production capacity of NLEM medicines, he added.

Apart from drug pricing, another issue that was of concern to the government was the takeover of Indian pharma firms by multinationals and its impact on the availability of affordable medicines.

Differences between various ministries, including finance on one side and commerce and industry along with health on the other, resulted in a delay arriving at a conclusion. The Prime Minister's Office intervened to finally set the rule that any level of foreign direct investment in an existing domestic pharma company
would have to be approved by the FIPB.
Under the new rule, whosoever acquires an Indian firm producing essential drugs will have to continue to manufacture them till the Competition Commission of India is empowered to take a view on such mergers and acquisitions.
In October 2011, a ministerial group headed by the Prime Minister had put foreign investment in brown-field pharma on approval route, changing a 10-year-old policy of automatic clearance.
In the face of the restrictions, Orchid Chemicals & Pharmaceuticals sold various assets, including active pharmaceutical ingredients (API) business and a R&D facility to the US-based Hospira Inc for $200 million (nearly Rs 1,112 crore).
Further, Ahmedabad-based Claris Lifesciences divested 80 per cent stake in its infusion business for Rs 1,050 crore (Rs 10.50 billion) and entered into a tripartite joint venture with two Japanese firms - Otsuka Pharmaceutical Factory (OPF) and Mitsui & Co Ltd for the same.
Earlier in the year, Bangalore-headquartered Strides Arcolab sold its entire stake in Australian subsidiary Ascent Pharmahealth to Watson Pharmaceuticals for 375 million Australian dollars (over Rs 1,960 crore).
The year 2012, also marked India cracking down on patents held by multinational firms. In a first, the government invoked compulsory licensing in March to allow Hyderabad- based Natco Pharma to manufacture and sell cancer-treatment drug Nexavar at a price, over 30 times lower than what Bayer charged for its patented Nexavar drug.
Natco was allowed to sell the generic copy of the drug at Rs 8,880 for a pack of 120 tablets required for a month's treatment as compared to a whopping Rs 280,000 per month by Bayer.
The Indian Patents Office revoked Pfizer's patent of cancer drug Sutent following opposition by domestic firm Cipla. In another case, the Intellectual Property Appellate Board (IPAB) turned down drug firm AstraZeneca's plea for a patent on the lung cancer drug Gefitinib citing lack of invention.
Similarly, in December the Indian Patents Office revoked a patent for an asthma drug held by US-based Merck & Co following a challenge from domestic pharma firm Cipla.
On the whole, for the pharmaceutical and healthcare sector, it was an action packed year with government's active steps standing out as highlights.