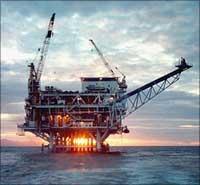 The government flagged off the eighth edition of the New Exploration and Licensing Policy (Nelp-VIII) and the fourth round of bidding for Coal Bed Methane (CBM-IV) in Mumbai, expecting a commitment of around $3 billion. This is a third of the $9 billion that has been committed in the first seven rounds of Nelp so far.
The government is offering a total of 70 oil and gas blocks under NELP-VIII and 10 blocks have been offered under CBM-IV.
A total of 119 companies - 67 exploration and production companies (53 Indian, 14 foreign), 30 oil and gas field service providers and 22 other organisations including financial institutions - participated in the road show.
In an effort to attract more bidders, the Budget last month extended tax breaks for gas discoveries, which is in line with existing concessions on oil discoveries.
Last year's bidding had not seen active bidding by foreign firms as tax breaks were put in place for discoveries of oil but not gas.
On his part, Petroleum Secretary R S Pandey said that investors should have no apprehensions in their minds regarding the price fixing formula of natural gas. "There will be no change in the existing policies of Nelp. The earlier practice of fixing prices at arm's length (which is the market price), subject to government approval before sale, will continue," Pandey said.
The bid-closing date for Nelp-VIII and CBM-IV is 12 October. Promotional roadshows for Nelp-VIII and CBM-IV will be held at Houston, Calgary, London,Perth and Brisbane.
To facilitate data viewing by exploration and production companies, the government of India has opened a data centre at Noida. At Houston, London, Calgary and Perth, the data centres will be available for access on request.
Some leading exploration and production companies which participated in the roadshow include British Gas, Cairn Energy, Hardy, Niko, Canoro, Arrow Energy, ENI, JTI, Naftogaz, RIL, Adani, Global Resources, Shell Technology, Jubiliant, Ensearch, Tata Petrodyne, Focus Energy, RNRL, Olimax, HOEC, Essar Oil and national oil companies ONGC and Oil India.