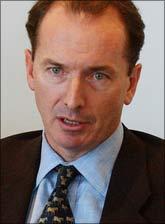 Financial services firm Morgan Stanley has said its chief executive officer John J Mack is stepping down next year and will be replaced by co-president James Gorman.
The company's co-president Gorman would become the CEO of Morgan Stanley with effect from January 1, 2010, while chairman and current CEO Mack would continue to serve as chairman, Morgan Stanley said in a statement.
In a statement, the lead director of the board, Robert Kidder said, John told the board 18 months ago that he would like to step down from the position of the CEO after turning 65 this November.
Gorman, 51, has served as the Co-President of Morgan Stanley for the past two years overseeing the firm's global wealth management business, investment management business, including the merchant bank and operations and technology group, among others.
Before joining Morgan Stanley, Gorman held successive executive positions at Merrill Lynch including at the company's US and subsequently, global private client businesses.
Image: James Gorman to be new CEO at Morgan Stanley. Photograph: Reuters