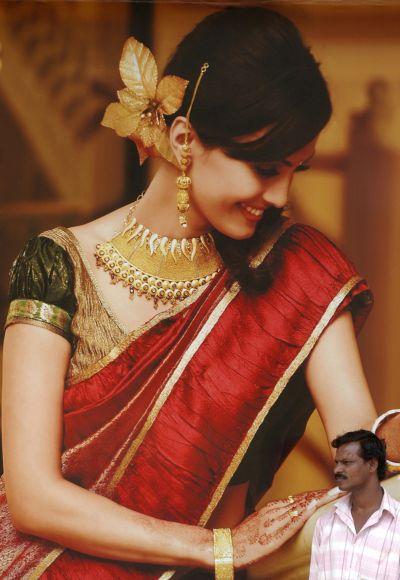 Gold jewellery exports may decline by about 50 per cent in this financial year from last year after government restrictions reduced the availability of raw material, Gitanjali Gems Chairman and Managing Director Mehul Choksi said.
Gold jewellery exports were Rs 1,293 crore in 2012-13, according to the Gems and Jewellery Export Promotion Council.
"There are less stocks available in the market and the premium is as high as 8-10 per cent in the domestic market. This will give rise to smuggling. Very little gold is available for exports," Choksi said.
"Exports have declined by 55 per cent since the last seven months. We are expecting an overall about 50 per cent decline in gold jewellery exports this financial year," Choksi told reporters on the sidelines of the Mumbai Jewellery and Gems Fair 2013 organised by UBM India and FICCI.
He said if raw material availability remains low, it will give rise to smuggling. During the festive season, industry's sales fell about 50 per cent from the previous year period.
"There is a need for conducive government policies for the sector to perform well. If the gems and jewellery sector grows to its full potential, it can easily employ another 1 million people," he added.
The sector currently employs about 2.5 million people. Choksi said Indian demand for gold jewellery is shifting to the Middle East due to competitive prices.
"Middle East countries are taking advantage of the India situation as Indians are going to those countries to buy gold jewellery," he added.
Gitanjali Export Corporation CEO Sanjeev Agarwal said local gold prices are high, even as prices overseas drop. In Dubai, gold is 21 per cent cheaper than in India, making the city an attractive destination to buy the metal, he added.
"There are reports that about half tonne of gold is coming into India from Dubai. The Middle Eastern region, along with China and Thailand, are also emerging as alternative manufacturing bases. Many big players have already shifted their bases to these locations to feed the export market," he said.
All India Gems and Jewellery Trade Federation (GJF) Chairman Haresh Soni said NRIs are also buying from outside India.
"The domestic market is affected by the lower availability of stocks. Even NRI demand is getting diverted to other countries like the neighbouring countries and Dubai," he added.