Gems and gold jewellery exports from India are expected to rise for a third straight month to a level of Rs 19,800 crore (Rs 198 billion) for October on easing of supply pressures, industry body GJEPC said on Monday.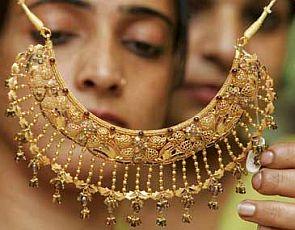 The country's overseas sale of gems and jewellery in October this year is likely to exceed by 36 per cent from Rs 14,475 (Rs 144.75 billion) crore achieved in the same month last year, it stated.

In order to curb current account deficit, the government has taken several steps to contain gold imports.

It has raised import duty to 10 per cent on the yellow metal and also made it mandatory for traders to export 20 per cent of the imported gold, thereby creating supply crunch in the domestic market.

The local supply shortage has hit exports as well with volumes declining on a monthly basis. However, shipments saw an improvement in August and September.

"In October, we expect exports to jump by 15 per cent from the level that prevailed in previous two months (August-September) because of resumption in gold supply and increased festival orders," the Gems and Jewellery Export Promotion Council (GJEPC) Chairman Vipul Shah told PTI.

More
shipments could be dispatched after the clarity on gold supply norms for export purpose, he said, adding that increased Christmas demand also boosted exports.
Maximum shipments of gems and jewellery were dispatched to countries like the US, Europe, the UAE and Hong Kong.
Asked about the overall exports during the 2013-14 fiscal, Shah said: "With shipments expected to gain momentum in the coming months, we hope to see total gems and jewellery exports to remain flat at last year's level of $39 billion (Rs 2,12,638 crore)."
Gold jewellery constitutes half of the total exports, while the rest include diamonds and other coloured gems and precious stones.
Gems and jewellery exports sector which employs 1.5 million people constitute 17 per cent of India's total exports.