After recording net inflows for seven consecutive months, the gold exchange-traded funds (ETFs) of the country witnessed a net outflow in February 2013 as investors booked profits for equities and other asset classes.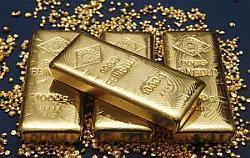 The net outflows, although of a small amount of Rs 8 crore (Rs 80 million), also led to the total assets managed by these ETFs slipping below Rs 12,000 crore (Rs 120 billion) mark at the end of February.

According to data compiled by industry body Association of Mutual Funds in India (Amfi), the gold ETFs saw their first net outflow last month since June 2012, when they had withdrawn Rs 227 crore (Rs 2.27 billion).

Between July 2012 and January 2013, the gold ETFs had witnessed seven consecutive months of net inflows, totalling into Rs 1,733 crore (Rs 17.33 billion).

Market experts attributed the outflows to profit booking as investors are looking to re-allocate
their funds to other assets. Gold prices have also dropped by 2.5 per cent since the end of 2012.
The total AUMs held by the gold ETF schemes stood at Rs 11,559 crore (Rs 115.59 billion) at the end of February, down from Rs 12,057 crore (Rs 120.57 billion) as on January 31, 2013.
Besides, other ETFs saw a net withdrawal of Rs 119 crore (Rs 1.19 billion) last month as compared to a net inflows of Rs 3 crore (Rs 30 million) in January.
Consequently, assets managed by other ETFs declined to Rs 1,506 crore (Rs 15.06 billion) in the month of February from Rs 1,692 crore (Rs 16.92 billion) in January.
Overall, AUM of the mutual fund industry fell 1.5 per cent to Rs 8.14 lakh crore (Rs 8.14 trillion) in February from the record high in January due to mark-to-market fall in equity oriented mutual funds.