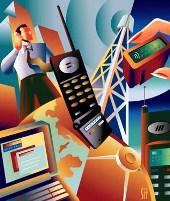 An inter-ministerial panel on telecom has said foreign telecom companies such as Telenor, along with their investors, may opt for international arbitration under bilateral investment promotion and protection agreements, even if a legal solution is available in India.

In February, the Supreme Court had cancelled 122 telecom licences. Many of these belonged to foreign companies or companies with foreign investors.

In a recent meeting, the panel is understood to have stated, "According to the existing clauses in BIPAs, foreign investors may opt for international arbitration, even if a domestic legal remedy is available."

Earlier, the Department of Telecommunications had sought the attorney general's opinion on whether foreign telecom companies whose licences were cancelled by the Supreme Court judgment could take legal action against the government and claim damages under a BIPA, to which Attorney General G E Vahanvati's response was negative.

A senior DoT official said owing to the sensitivity of the matter, it
might be referred to the standing committee of secretaries constituted to oversee issues related to BIPAs.
The inter-ministerial panel has also prepared draft responses to be sent to foreign investors who had issued legal notices under bilateral agreements.
These investors include Telenor Asia, Capital Global and Kaif Investment, Axiata Group Berhad, Axiata Investment Mauritius and White and Case LLP. In its response, DoT had said, "The government confirms its commitment to engage in negotiations to amicably resolve any alleged dispute between the investor and the government."
However, it also clarified "it fully reserves the rights and contentions in connection with the alleged dispute and nothing contained in the letter will be considered as acceptance of applicability of the above mentioned agreement."
The inter-ministerial panel said foreign investors couldn't invoke bilateral treaties if they were found to have misrepresented facts that led to wrong determination of eligibility criteria for securing licences.
It added DoT's licensing division should 'take requisite action' against such companies.